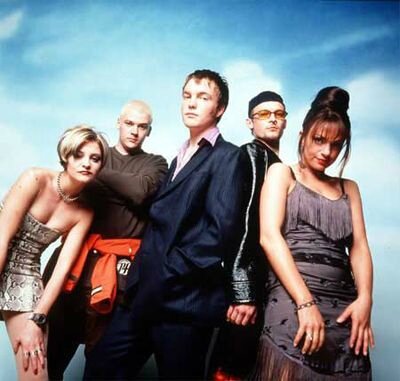 The Young Person's Guide To becoming A Rock Star est une série de Bryan Elsley.
6 épisodes de 35 minutes
Diffusée sur Channel 4 en 1998
Diffusée en France sur la chaîne Jimmy en 1999
Royal Television Society Award 1999 : Meilleure série dramatique
Crée et filmé en Ecosse, incluant des acteurs écossais (Simone Lahbib, Duncan Marwick et Stephen McCole)
Quelques vedettes de la scène musicale britannique ont fait une apparition dans certains épisodes, parmi lesquels Noel Gallagher, Chrissie Hynde, Jason Kay, Fish (premier chanteur de Marillion) ou encore Samantha Fox.
L'HISTOIRE
A Glasgow, les membres du groupe Jocks Wa Hey sont prêts à tout pour devenir des stars du rock.
ROLE DE SIMONE
Simone Lahbib joue Fiona Johnstone, DJ la nuit et employée le jour, qui va s'avérer être la clé pour propulser le groupe vers la célébrité.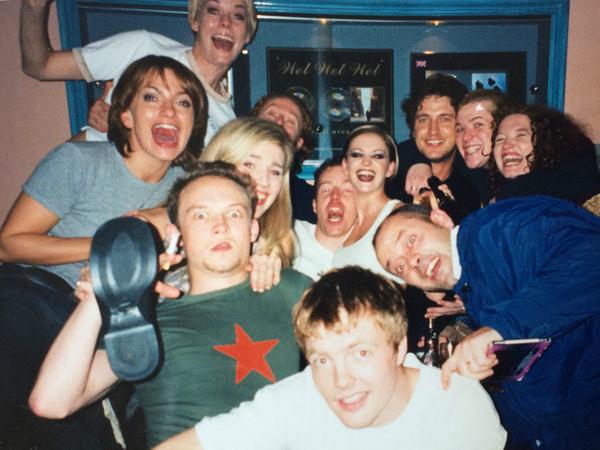 Simone Lahbib a gauche, avec la joyeuse bande de la série
(Source : Twitter Simone Lahbib - 15 janvier 2015)
LES EPISODES
EPISODE 1 - LIFESTYLES OF THE RICH AND FAMOUS (LE REVE)
Jez MacAllister commence le douloureux processus pour devenir une star du rock alors qu'il réunit un groupe.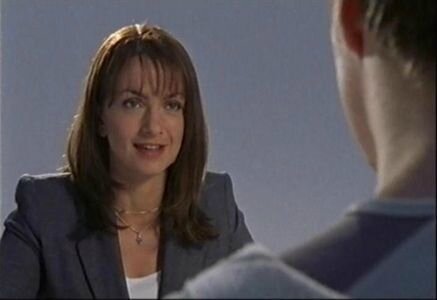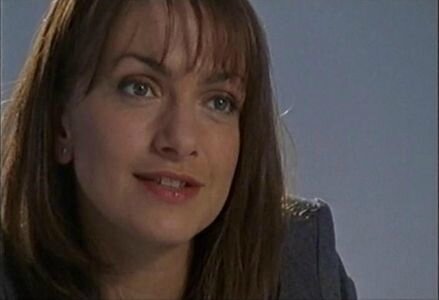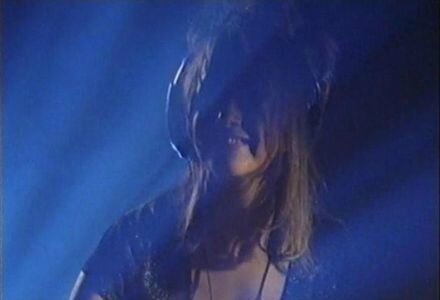 (Source captures : www.simonelahbib.net)
EPISODE 2 - CREATING THE BUZZ (BOUCHE A OREILLE)
Fiona est recrutée en tant que nouveau membre du groupe sous deux conditions dont l'une d'elles est d'arrêter de dormir avec Jez.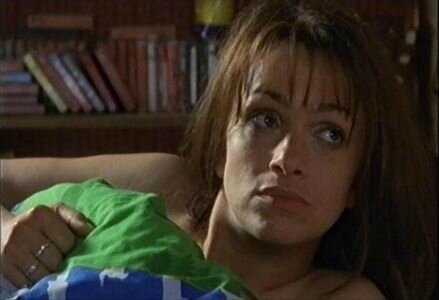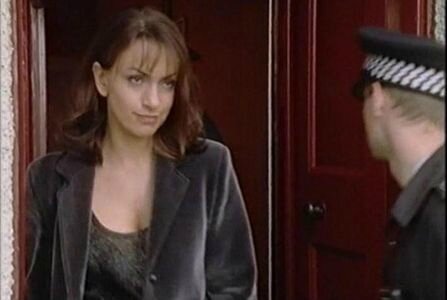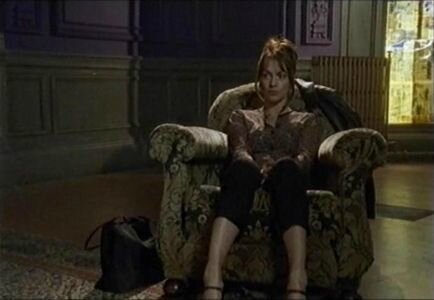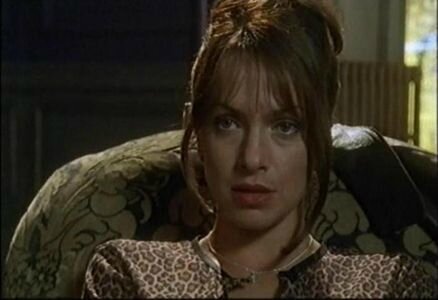 (Source captures : www.simonelahbib.net)
EPISODE 3 - THE A&R MEN COMETH (LA MAISON DE DISQUES)
En l'absence de signe d'un contrat après trois mois de gesticulations, Art est contraint d'organiser un show.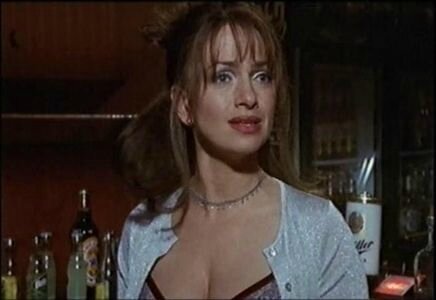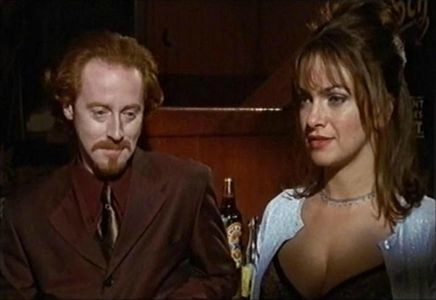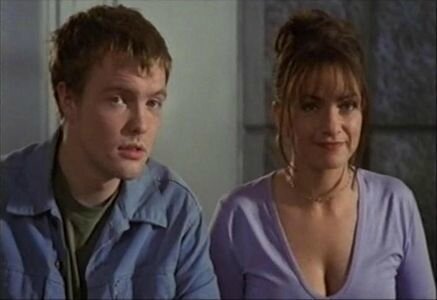 (Source captures : www.simonelahbib.net)
EPISODE 4 - SIGN ON THE LINE (LA SIGNATURE DU CONTRAT)
Le groupe arrive à Londres, où il fait un marché avec Slick Sloan, puis il se lance sur la scène médiatique.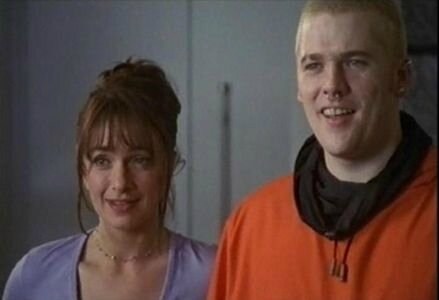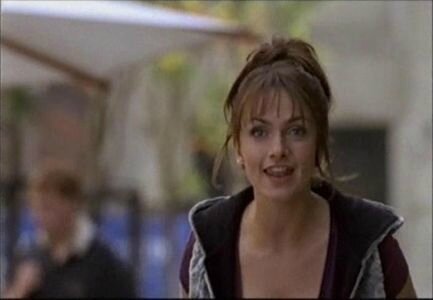 (Source captures : www.simonelahbib.net)
EPISODE 5 - MAKING TRACKS (L'ENREGISTREMENT)
Le groupe arrive dans un studio renommé pour enregistrer à la ferme d'une légende du rock Derek Trout.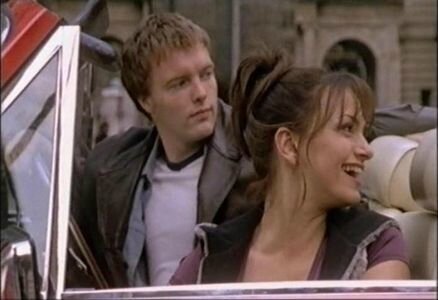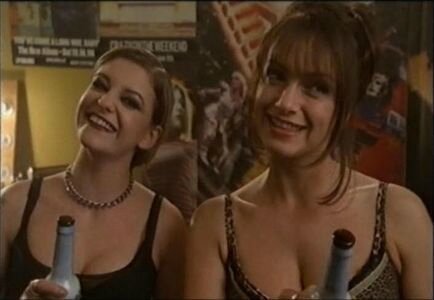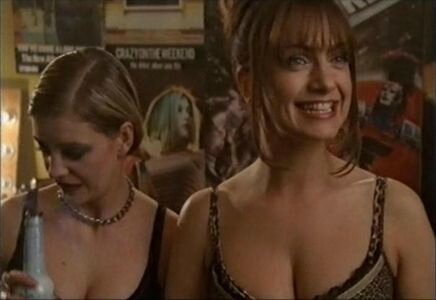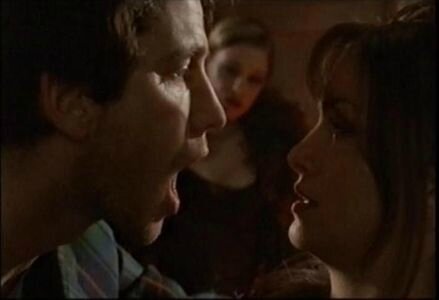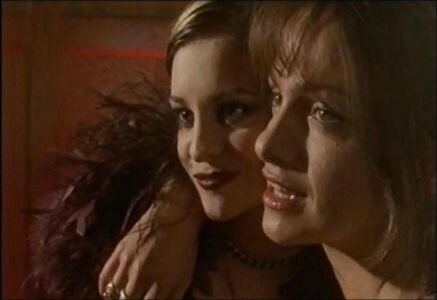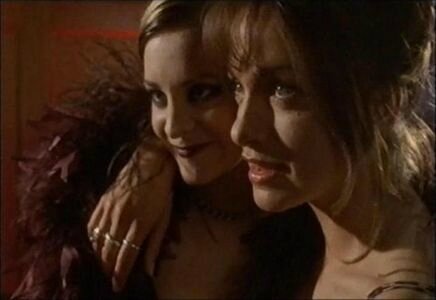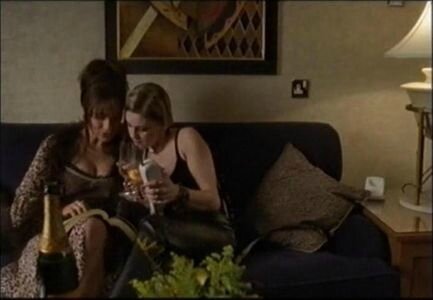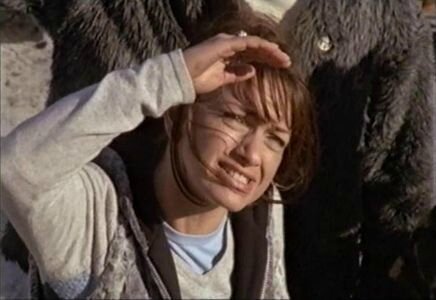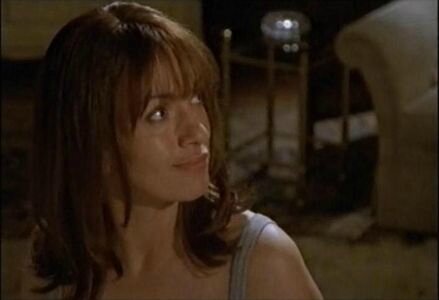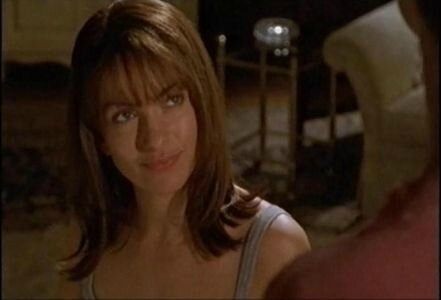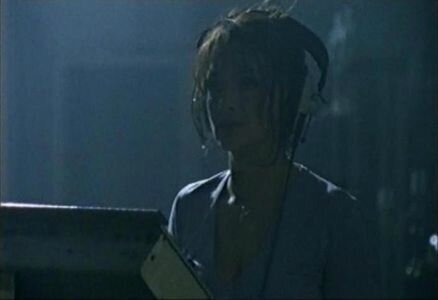 EPISODE 6 - SHIFTING THE UNITS - (LA PROMO)
Le calendrier de promotion du groupe s'accélère et comprend une apparition chaotique sur une émission télé culte du vendredi soir. Pendant ce temps, les tensions au sein de la bande sont exacerbées.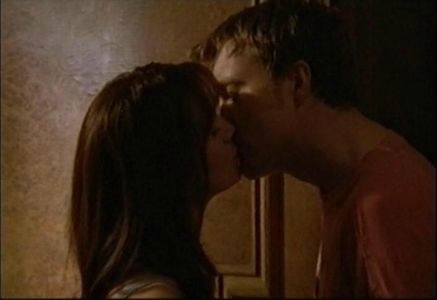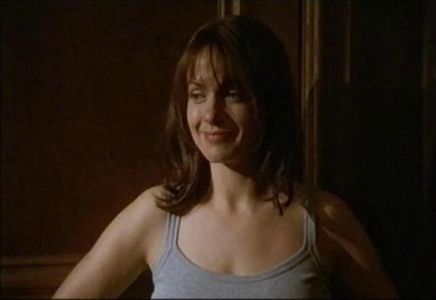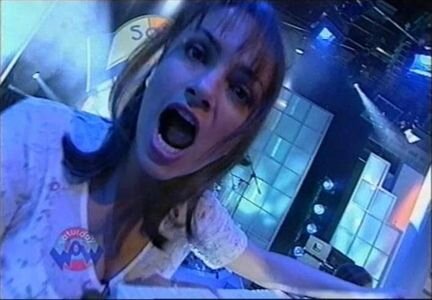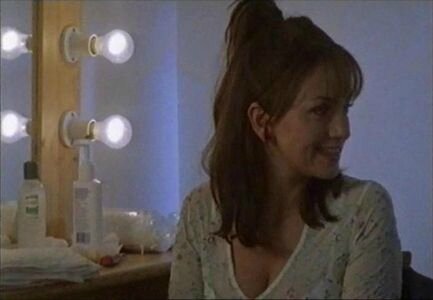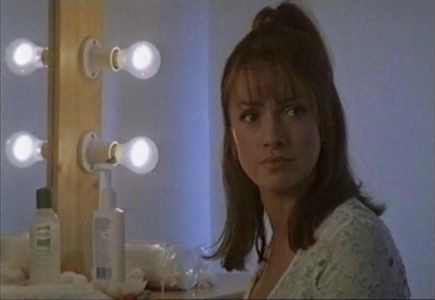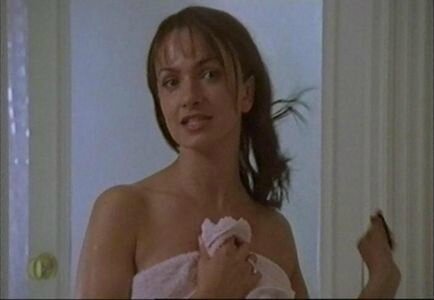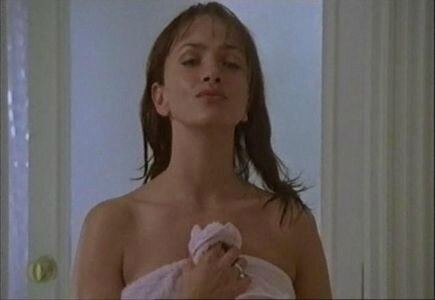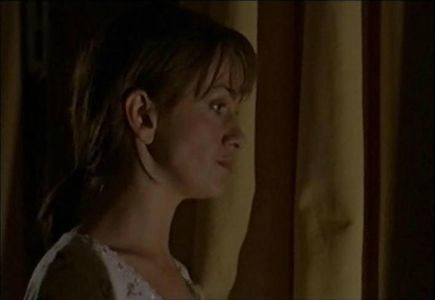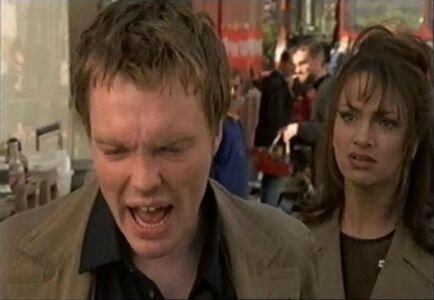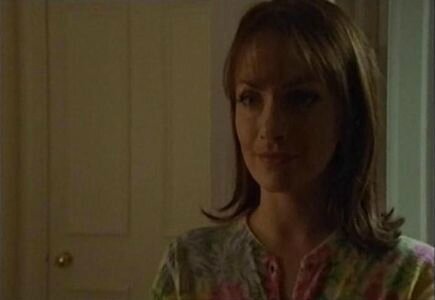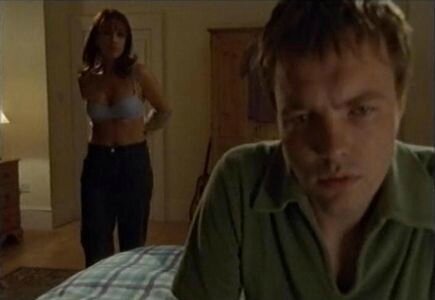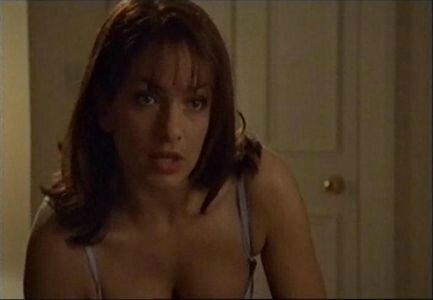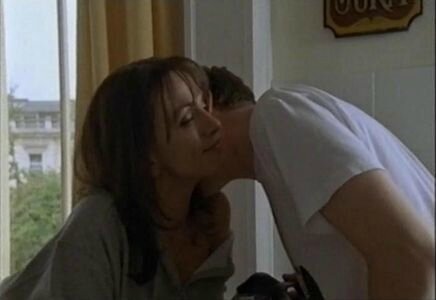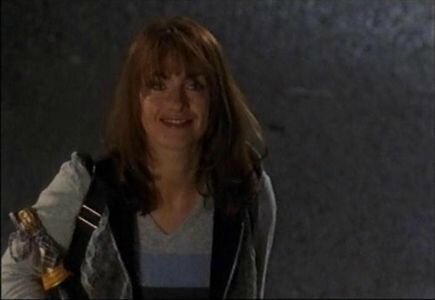 (Source captures : www.simonelahbib.net)
VIDEOS
BOUTIQUE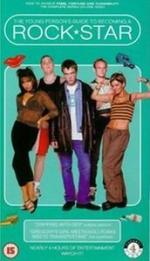 Non disponible sauf d'occasion.
ARTICLES DE PRESSE EN RAPPORT AVEC LA SERIE
BLOG EN FRANCAIS : Pour une fois que je trouve un article d'un internaute en français sur une série rarement diffusée de Simone, j'en profite.
ARTICLE DAILY RECORD 1ER NOVEMBRE 1998
Auteur inconnu
Je n'ai pas eu le courage de traduire cet article qui ne nous apprend rien de particulier sur Simone mais je vous le présente dans son intégralité pour ceux que celà intéressent :
THE Young Person's Guide To Becoming A Rock Star is more than just a mouthful. It has put yoof TV back on the agenda - and Scotland back on the television map. Its mix of Glasgow patter and wide-boy humour is a two-fingered gesture to a London-dominated television industry. The best lines could have been plucked from any Scottish pub on a Saturday night.
Rock Star has taken a deep breath - and gobbed over its London rivals.
From the moment Ciaran McMenamin strutted on screen in his Y-fronts miming to a Dr Hook song, we knew this was a show with a difference.
The drama was created in Scotland, filmed in Scotland and stars Scots. Newcomers Siobhan Lahbib, Duncan Marwick and Stephen McCole rub shoulders with big-name stars, including Noel Gallagher and Jay Kay, in the irreverent send-up of the music industry.
The six-part series has produced an album which has left fictional Irish soul stars The Commitments looking like has-beens. Melody Maker recently made it album of the week.
When the Channel 4 drama about sex, Jocks and rock `n' roll comes to an explosive end next Tuesday (it will be repeated the following Saturday), the nation will wonder what's hit it.
Suddenly there will be a hole in the TV schedules that just can't be filled by middle-of-the-road dramas like Grafters.
Rock Star has reached the parts that other shows can only dream of - and the secret is its raw, Scottish humour.
The drama by Bryan Elsely, creator of BBC Scotland's smash hit series The Crow Road, follows the exploits of mythical Glasgow rockers Jocks Wa-Hey.
It trailed them as they took the high road from pub gigs to lucrative record company contracts, via a string of sexual encounters and punch-ups.
Jocks end up at number seven in the singles charts and pounds 3 million in debt - at least in the show's script.
Ciaran McMenamin has won female viewers' hearts as Jez, the lead singer with the strange habit carrying his microphone around down the front of his jeans.
And former EastEnder Nicola Stapleton has been having the time of her life scaring the wits out of every male viewers as the band's gutsy lead guitarist Joe.
The actress has finally shaken off her image as Albert Square's runaway Mandy, thanks to scenes showing Joe kicking her fellow band members between the legs. Part of the drama's fascination for Scots has been spotting the nation's clubs, pubs and urban backdrops, even when the Jocks are supposed to be in London.
Filmed in and around Glasgow, the show has turned the tables on the usual London bias in TV dramas.
For once, London was second best when it came to the locations, with Buchanan Street bus station being used to represent Victoria coach station, and Sauchiehall Street was used as the setting for a scene in the English capital.
Viewers who enjoy seeing Scotland up in lights have been given a refreshing alternative to cop drama Taggart. This time, Glasgow is an exciting, trendsetting city and not just a grim murder scene.
Rock Star, which draws 2.5 million viewers every week, owes more than a nod to Scots hit movie Trainspotting, with its head-spinning camera shots and soundtrack.
But whatever its debt to Trainspotting, Rock Star has its own rough charm, a talented cast and some cracking lines.
Jez found himself on the wrong side of his heavy-metal loving father after the singer gave that immortal rendition of Dr Hook's When You're In Love With A Beautiful Woman.
"Dr Hook, the boy's a poof," was his dad's classic response to his son's taste in music.
McMenamin's portrayal of a young Glaswegian on the brink of success is so good that the Irishman has been forgiven for his dubious Scottish accent.
Most viewers in England and Wales won't have noticed the odd lapse into a Brigadoon lilt, and the actor has won over cynical Scots.
Stapleton's Scottish roots have done her proud.
The actress was told by the show's producers to tone down her Glasgow accent because it was too authentic for viewers south of the border.
She was so convincing that she would have had no problems punting knockdown CDs at the Barras market in Glasgow any weekend.
Her secret was a lifetime of listening to her Glasgow-born mother.
No subtitles are needed for this show because its message couldn't be clearer.
This is strong, exciting drama with a Scottish accent and a wicked sense of humour.
There are no plans to film a sequel to the series, but with music magazines giving the spin-off CD a big thumbs up, there could be room for a follow- up.
But even though the series finishes on Tuesday, the dulcet sounds of the Jacks' hits will be ringing in the ears of the British public for a very long time.
CAVA RECORDING STUDIOS
The Glasgow studios once used by Wet Wet Wet were the setting for the private recording suite owned by Derek Trout (Fish). The exteriors of Trout's mansion were filmed at the salubrious Hunterston House near Largs.
KING TUT'S WAH WAH HUT
The Glasgow venue where Creation Records boss Alan McGee discovered a young, fresh Oasis was the backdrop for a scene in the drama's first episode.
Psycho is ejected from King Tuts' front door after trying to hawk the Jocks' demo tape.
THE APARTMENT
The Glasgow nightclub was the setting for Rock Star's London media hang- out club, the Cottage.
The Jocks spend their time there schmoozing with the likes of Chrissie Hynde and Noel Gallagher in this, the Inner- sanctum of cool.
THE BARROWLAND
The legendary Glasgow ballroom turned rock venue was the scene for the Jocks' first successful gig after selling 500 tickets in six days.
The band played a stormer of a gig before being signed by A& R man Slick Sloan (Keith Allen). The Beastie Boys, Radiohead and Primal Scream are just some of the bands that paved the way for our fictional heroes.
Meet the boys
CHARACTER: JEZ MACALLISTER
Woman-chasing wide-boy and the brains behind Jocks Wa-Hey. His success is more to do with luck than talent.
ACTOR: CIARAN McMENAMIN Eineskillen-born. Soon to be seen in Titanic Town, alongside Julie Walters.
CHARACTER: PSYCHO MacPHAIL Bassist and Jez's best friend. A mild-mannered punchbag transformed
into the band's sex god.
ACTOR: DUNCAN MARWICK From Coatbridge, Rock Star was his first big break, but will star with Ciaran McMenamin in the film Titanic Town
CHARACTER:WULLIE MacBOYNE
Drummer, formerly in an Orange band. Reformed bigot
ACTOR: STEPHEN McCOLE
Brought up in Castlemilk, stars as a rent boy in Channel 4 drama Clean and in Disney film Rushmore, with Bill Murray.
CHARACTER: ART STILTON
Sleazy manager with no qualms about exploiting the band all the way to the bank.
ACTOR: FORBES MASSON
Best known as one half of comedy duo Victor and Barry, with Goldeneye star Alan Cumming.
CHARACTER: SLICK SLOAN
Ruthless A&R man from Massive Mix Records attempted to sign up the Jocks - without Psycho and Wullie.
ACTOR: KEITH ALLEN Jobbing actor (good in BBC's Martin Chuzzlewit) and partly responsible for Fat Les
CAMEOS: Fish: record producer; Keith Chegwin: doorman: Timmy Mallett: agony uncle; Noel Gallagher and Jay Kay: themsleves
Meet the Girls
CHARACTER: JOE NARDONE
Hard-faced lead guitarist (above) who is as comfortable fighting with men as she is making love to them.
ACTOR: NICOLA STAPLETON
Formerly Mandy in EastEnders,
Rock Star has put Nicola's name back up in lights after a string of low- key roles in TV dramas .
CHARACTER: FIONA JOHNSTONE
Keyboard player who works as a DSS officer by day and is queen of the turntables at night.
ACTRESS: SIMONE LAHBIB Stirling-born Simone (right) once sang in a pop band. Previous TV form includes The Girl In The Picture, Taggart, Thief Takers and Dangerfield.
(Copyright 1998 Daily Record)