LA GUERRE DES CLANS

Réalisateur : Jim O'Hanlon
Scénariste : Martin Allen
L'HISTOIRE
Helen est parvenue à satisfaire les demandes des détenues en se débrouillant pour que Fémi partage sa cellule avec une autre nigérienne incarcérée qui ,elle, parle couramment anglais. Elles sont toutes les deux mutées à l'aile E.
Puisque les revendications des prisonnières ont été satisfaites, Helen leur demande de cesser leur mouvement. Nikki accepte mais Maxi prend le contrôle et déclare que rien n'est fini. Afin de régler le problème Maxi, Nikki l'enferme dans sa cellule avec ses amies et rend les armes.
Seulement Helen n'est pas pour autant rassurée. Elle accuse Nikki d'être responsable de l'émeute et lui déclare que tout est fini entre elles. En parallèle, elle se rapproche du médecin de la prison qui l'invite à une conférence.
Vexée et blessée, Nikki, se rapproche de Caroline, la blonde qui lui avait sauvée la mise précédemment et l'avait ouvertement draguée. Alors qu'elles s'embrassent à la bibliothèque, Helen arrive et les surprend. Elle se dispute avec Nikki. Le lendemain, elle fait transférer Caroline dans une autre aile. Nikki est énervée et lui dit demande des explications. Helen lui répond qu'elle n'a pas à se justifier.
Maxi qui a volé les dossiers des prisonnières lors de l'émeute, se sert de ce qu'elle a appris. En fait, Caroline n'a pas détourné des fonds mais a agressé sexuellement des enfants. Lorsque Maxi annonce la nouvelle, Nikki est choquée et comprend l'attitude d'Helen. Découvrant la vérité, les autres détenues se jettent sur Caroline. Josh, présent à ses côtés, l'attire dans une cellule et se barricade avec elle pour la protéger.
Les deux Julie doivent être libérées. Les autres détenues leurs offrent une belle soirée de départ. A peine sont elles sorties qu'elles sont arrêtées par la police pour vol.
CAPTURES DE L'EPISODE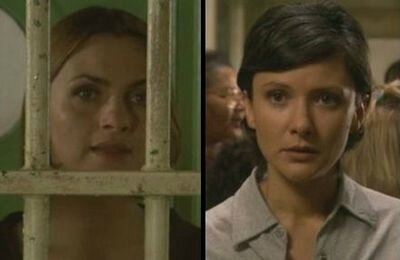 Helen: [calmly] OK. I've thought about all you've said, and I understand your grievance.
Nikki: [loudly, in top dog mode] So what you gonna do about it?
Helen: I've spoken to Allocation. We've made arrangements to transfer another Nigerian prisoner with a similar background to Femi. She'll be here tomorrow. She speaks good English. She and Femi can share a cell on E Wing.
Nikki: Well, that's something.
Helen: So would you like to call off your little protest now?
Nikki: [eagerly] It's off.
Nikki: [to Helen] It just needs time to sink in. That's all. They're a bit fired up.
Helen: And who fired them up, Nikki?

Nikki: This wasn't about you.
Helen: I don't wanna hear it!
Nikki: It was about the system.
Helen: I am the system while I'm in charge. You betrayed me tonight.
Nikki: I thought you wanted to change things in here.
Helen: Not by violence.
Nikki: That was the Peckham Gang wanting a free-for-all. They don't care about Femi.
Helen: It's over, Nikki.
Nikki: What?
Helen: You and me. I don't want anything more to do with you. And do you know something? I don't even feel sad about it.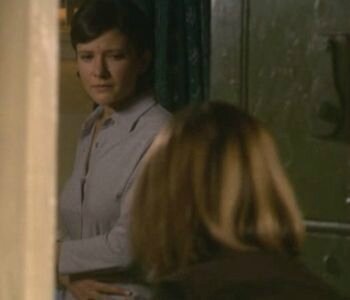 Helen et le Dr Waugh prennent un café... :

Barbara tente de défendre la cause de Nikki auprès d'Helen...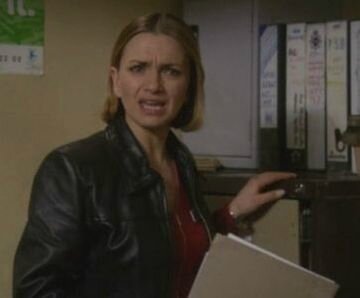 Barbara: It's a good job Nikki was in control the other night.
Helen: [scowling] I'm sorry?
Barbara: Otherwise we might have had a full-blown riot on our hands. It's just ... I heard some of the officers talking as if she were the ringleader, when actually she did everything she could to contain it.
Helen: Did she tell you to say all this?
Barbara: Oh, no no, you mustn't think that.
Helen: In case you've forgotten, it was Nikki who instigated the whole thing.
Barbara: Yes, but it started peacefully.
Helen: [seething] Barbara. We are lucky no one was killed. Now, if Nikki hadn't kept a lid on things, she'd have been out of here at the speed of light. If she thinks she was badly treated, you can tell her from me she doesn't know she was born!
De derrière les barreaux, Helen aperçoit Nikki et Caroline flirter dans le jardin...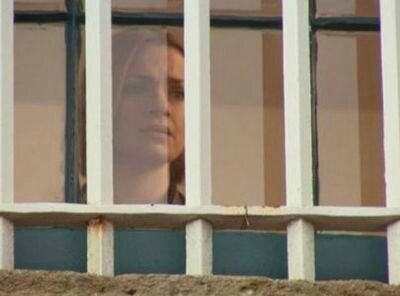 ...et dans la bibliothèque :

Helen: Nikki, can I have a word, please.
(Sources Captures et Dialogues : Afterellen.com)
Lire la suite : BadGirls 3-13