OEIL POUR OEIL
Réalisateur : Mike Adams
Scénariste : Ann McManus
L'HISTOIRE
Renée agresse Yvonne dans la salle de bain avec une lame de rasoir. Elle ne doit la vie sauve qu'à l'intervention immédiate de Nikki qui s'interpose.
Helen revient pour superviser une réunion de détenues condamnées à perpétuité. Nikki et elle discutent très proches l'une de l'autre lorsque Dominic les interrompt. Peu après, il propose à Helen d'aller boire un verre et d'aller dîner en tête à tête. Elle accepte et cela rend Nikki extrêmement jalouse. En parallèle, Helen a présenté son amie avocate à Nikki et celle-ci a repris en main le dossier de la prisonnière. Elle a trouvé de nombreux éléments qui n'étaient pas connus lors du premiers procès ce qui est une bonne nouvelle.
Un soir, Denny et Shaz enferment Sylvia dans leur cellule. Cette dernière leur remet ses clés pour qu'elles la libèrent mais les deux jeunes détenues en profitent pour faire une promenade au réfectoire. Sylvia est obligée d'en faire part à Karen qui ne supporte plus ses erreurs. La directrice la rétrograde et la suspend durant un mois.
Renée tient des propos racistes envers Denny et Crystal. Elle se fait également détester d'Yvonne et de Shell. Tout le monde se ligue contre elle et Shaz, Denny, Crystal et Yvonne l'empoisonnent en même temps mais séparément. Renée meurt et une autopsie est demandée.
Une enquête est diligentée par la police pour meurtre. Shaz est fortement suspectée et avoue le crime. Mais Yvonne réussit à convaincre Denny que si la jeune femme est reconnue coupable, elle sera enfermée en hôpital psychiatrique. Denny avoue alors le crime pour protéger son amie mais Renée est en fait décédée d'un choc anaphylactique. La police quitte Larckhall sans coupable.
Jim a des problèmes personnels et boit beaucoup depuis le départ de sa femme. Il arrive au travail en retard et avec la gueule de bois. Il se saoule même pendant qu'il est en service et se trouvait au bar du coin lorsque Renée est morte. Karen lui rend visite à son domicile et se retrouve face à un Fenner anéanti et en pleurs. Elle promet de le soutenir durant cette difficile épreuve.
CAPTURES DE L'EPISODE
Dominic : Does this mean you'll be based here for good now?
Helen : Yep.

Helen rencontre Nikki dans le potager :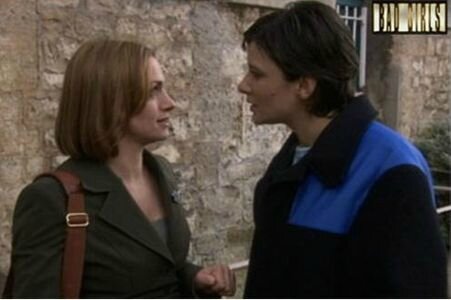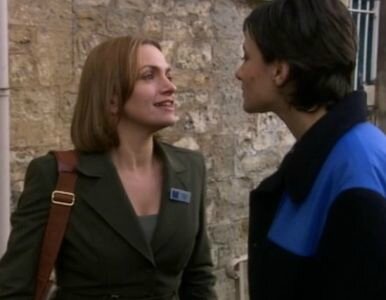 Nikki : When'd you come in?
Helen : This morning. I've been in meetings all day.
Nikki : You here for long?
Helen : Uh-huh. Settin' up a lifers' group. We are gonna be seeing a lot more of each other.
Nikki : In private, I hope.
Helen : You're gonna have to keep your hormones under control, Nikki.
Helen : Listen. I have some good news.
Nikki : Yeah?
Helen : I sent a copy of your file to a lawyer friend of mine. She wants to meet you.
Nikki : She knows about my case?
Helen : She thinks that you could appeal your sentence.
Nikki : I can't believe it. You're joking. Wait till Fenner hears.
Helen : Oh, don't wind him up. I kinda broke the rules when I first copied your file.
Helen : Listen, we've got a long way to go, so don't get your hopes too high.
Nikki : Yeah. But just to even have a hope.
Helen : [nodding]. I've gotta go. I've got more meetings. I'll see you tomorrow.
La première réunion d'Helen avec les condamnées à vie :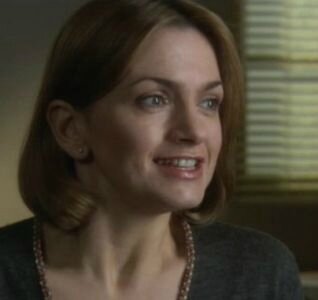 Nikki : [à Shell] Stupid tart. Shut it, will you?
Helen : [flatly] Why don't you do the same, Nikki?
Nikki : Sorry.
Helen : Can we move on from here, please?
Après la réunion, Helen et Nikki échangent quelques mots :
Nikki : I'm gonna phone my lawyer now, about my appeal.
Helen : Are you still in touch with Trisha?
Nikki : Why?
Helen : Because you're gonna need friends on the outside if this goes ahead. Publicity, lobbying, that kind of thing.
Nikki : She still runs our club, so ... we keep in touch.
Helen : Good.
Nikki : [teasing] Hard to believe I'm a businesswoman, i'n't it?
Helen : [grinning] Sometimes.
Nikki : We're doing well, apparently. [pausing] I'm gonna show you a good time when I get out.
Helen : [softly] I hope so.

Elles sont interrompues par Dominic qui ouvre brusquement la porte :
Helen : Dominic. Is there something that you want?
Dominic : I was just gonna lock up in here.
Helen : Fine. Yeah, we're just leaving.

Ouvrez les yeux, Helen porte des bottes, une jupe, une veste en cuir. Elle va rendre viste à Nikki :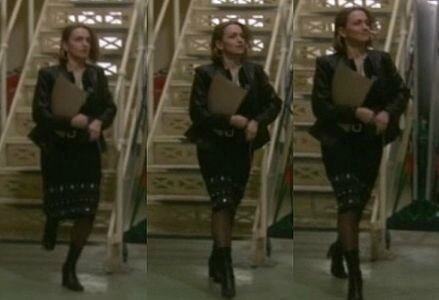 Helen : I've come to collect the questionnaire. Did you fill it in?
Nikki : Yeah. [grabbing the piece of paper] My board review's in two months' time. My appeal might be underway by then.
Helen : If it's granted.
Nikki : [hands her another piece of paper]
Helen : What's this?
Nikki : I'm not usually the soppy type, but it says a lot of the things I don't get a chance to say in this place.
Helen : I'll wait till I'm in bed; I'll read it then.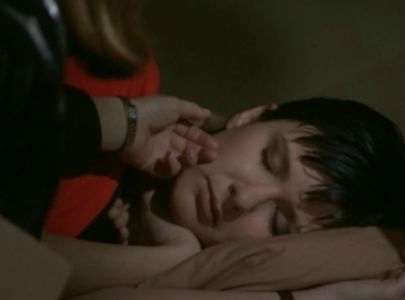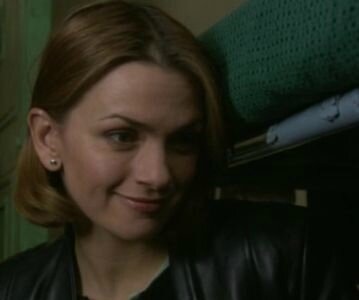 Elles sont à nouveau interrompues mais par Karen cette fois. Mais Helen est moins nerveuse en sa présence et fait un grand sourire à Nikki avant de partir :

Helen : Bye, Nikki. I look forward to reading your views.
Nikki : Yeah. I mean every word.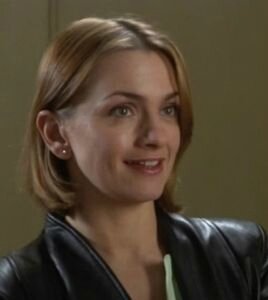 Dehors, Dom et Helen ont une petite discussion :

Dominic : Bet you're not missing G-wing now, eh?
Helen : What, managing you whinging, backstabbing bastards? I think not.
Dominic : Well, if that's how you feel, I won't tell you I was missin' you, then.
Helen : Aw. Go on.

Ils décident de sortir prendre un verre et Helen met une main sur le bras de Dom avant de partir.Malheureusement, Nikki observe la scène de sa fenêtre. Evidemment...La paranoïa lesbienne reprend ses droits...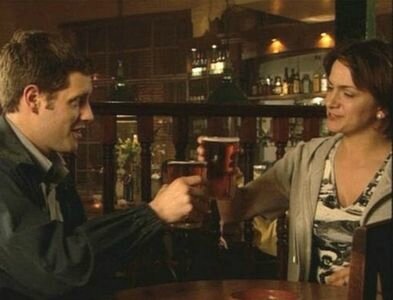 Un autre rendez-vous : Nikki rencontre Claire, l'amie avocate d'Helen. Celle-ci les interrompt :
Nikki : She's really good, your friend.
Helen : Yeah?
Nikki : You known her for long?
Helen : Yonks.
Nikki : That all she is? A friend?
Helen : [scolding] Nikki. I've told you before: I've never been into women.
Nikki : Just men?
Helen : Oh, stop being jealous. Look, that letter you wrote me: I feel exactly the same. Trust me.
(Sources Captures et Dialogues : Afterellen.com )
ANALYSE DE L'EPISODE
AUTEUR : JENNIFER T
Excess and equilibrium
This episode provides a warning against excess. Various characters over-indulge themselves, their emotions, their hungers and fears. A few do the opposite, demonstrating carelessness and a lack of care or fear. And in the midst of it all, one character, for reasons which turn mainstream society's morality on its ear, strikes the perfect balance.
The excessive consumption of two characters is emphasized most explicitly, setting the stage for a framework to understand every other character's behavior. Renee Williams eats and drinks as much as she can. She gulps orange juice and wolfs down lunch. This ability to consume is very important to her. When Fenner confronts her about her racist behavior, his words have no impact until he starts discarding her shampoo and hair spray, denying her the right to consume it. Fenner understands that this is the way to undermine Renee, because he's as dependent on consumption as she is. He spends this entire episode getting as drunk as possible as often as possible. In a scene later in the episode, when Sylvia joins him at the pub to confess her security lapse with Denny and Shaz, it's Sylvia who says she's "had enough" after her one (non-alcoholic) drink. In contrast, Fenner can't tell when he's had enough.
This overindulgence is a very dangerous behavior for both Renee and Fenner. A person can only stomach so much. Fenner's drinking is putting him at risk of losing his job. His repeated displays of incompetence while drunk would be enough to get any other officer fired or at least suspended or demoted. Renee, having antagonized nearly every single one of her fellow inmates, has put herself at particular risk. Can she stomach moldy bread? Rat poison? Peanuts? The danger of both characters' over-consumption is emphasized by the cross-editing of Fenner gorging himself on alcohol at the very moment that Renee is gorging herself on allergic-reaction-inducing peanut sprinkles.
Nikki falls into a similar trap of excess, but not an excess of eating or drinking: an excess of reading meaning where there is none. She spots Dominic and Helen talking in the courtyard, and sees Helen touch his arm. She takes too much from Claire's off-handed comment about Nikki's friendship with Trish: "It's nice when you can still be friends, eh?" drawing the tentative, perhaps barely conscious conclusion that Claire and Helen were once involved, and now fall into the same "still friends" category of she and Trish. She overhears Di egging on Dominic about his pint-and-curry with Helen. Of course, with her excessive observations, she's drawing the completely wrong conclusion, which Helen reminds her after she asks about Helen's history with Claire: "I've never been into women" she assures Nikki, with almost a wink, and then tells her she has no reason to be jealous.
It's not like Nikki to get so carried away in her reading of Helen and others around her. In fact, Nikki usually reads Helen consistently and accurately. In the episode's opening sequence Helen finds Nikki in the potting shed, just barely ducking down to peek in the window as she walks by. Nikki reads her unspoken signal and comes out to talk. In the Lifer's meeting, Nikki's smoldering stare when Helen refers to the prisoners' "offending behavior" causes Helen to swoon for a moment, totally losing track of herself. Nikki's tiny grin shows how clearly she sees the palpable effect she has on Helen.
While Nikki is overreacting, Shaz spends this episode in a disturbing state of under-reaction. She doesn't seem to be capable of acknowledging the seriousness of her crimes, nor the seriousness of Renee's death. Yvonne tries to warn Denny, and by extension Shaz, of the risk to Shaz if Renee's death gets pinned on her, telling Denny "Poisoning people, that's mad stuff." Poisoning people is bad: poisoning someone after you've just been thrown in jail for poisoning three other people is criminally insane.
The police investigation offers another under-reactive counterpoint, an example of examining too little, rather than too much. Once they find out that an allergic reaction caused Renee's death, they take the information at face value, acknowledging it could still have been murder, but it will be "impossible to prove"—which is another way of saying, we don't have the ability to read this evidence, or the care or motivation to try. But even before the cause of death was determined, they spend the episode misdirected, looking in the wrong place (Shaz with the mold in the cell, rather than Yvonne with the peanuts in the servery), and never even conduct an interview with the actual murderer.
That murderer, Yvonne, is the best detective in this episode, the character who finds the perfect balance between close observation and avoiding excess. She observes Renee in the food line rejecting a dish with nuts in it, goes to the library to do some research, and voila, she's figured out a way to bring Renee down without getting caught. Yvonne embodies the effective equilibrium between the lack of interest on the part of the police, and the excessive interest which Nikki demonstrates. Most notably, we, the audience, don't consider Yvonne's action to be excessive. This is fundamentally strange, given that she commits what is generally considered to be one of the most heinous of crimes. But given the danger Renee poses to her, and the lack of options available for protecting herself, Yvonne's decision to kill Renee actually feels quite measured and reasonable, with just a stroke of genius.
If murder can be considered reasonable and laudable behavior, then what makes some other excesses problematic? It's Nikki's astute ability to read people that makes her vulnerable to the jealous paranoia, just as Renee's gluttony makes her vulnerable to poisoning. If you're someone who has the tendency to be jealous, perhaps it's best to keep your eyes closed as much as possible, so as to avoid seeing anything to stimulate jealousy. Similarly, if you're someone who's allergic to peanuts, perhaps it's best to be extremely careful about what you put in your mouth. Too much of a good thing is very dangerous.
But there's a notable distinction between Renee and Nikki's excesses. Renee is depicted as driven by some pathology, a sense of entitlement that drives her to claim as much territory as possible (akin to the first lion in the pack to get the food). Nikki, on the other hand, is more like Fenner, her excess an emotional response to the fear of losing (or in Fenner's case the actual loss of) someone she loves. This episode marks the first occasion when we see Fenner demonstrate a true emotional response to something, devastated at being left by his wife. Similarly, Nikki is deathly afraid of losing Helen, and everything she reads into Helen's interactions with Claire and Dominic is driven by this fear, and by her attachment to Helen.
There seems to be the slightest suggestion that emotion-driven excess is more tolerable, or understandable, than both under-reaction, and excess driven by self-interest, by a psychological pathology. Not only does Renee suffer the worst fate of all these characters, but characters like Shaz and Sylvia, who demonstrate a disturbing lack of feeling (Sylvia actually articulates a wish that an inmate will die every day so the officers won't have to work as hard) suffer as well. Sylvia, in particular, is punished severely (with a demotion) for her incompetence in allowing Shaz and Denny to steal her keys. Fenner, on the other hand, comes through unscathed, even after being drunk at work multiple times. Karen responds to his emotional devastation, providing support and comfort, and when it comes to his job performance, significant tolerance. In this way Bad Girls suggests that the worst thing, the thing most deserving of punishment, isn't murder: it's to not care.
(Source de l'analyse :www.badgirlsannex.com )
Lire la suite : BadGirls 2-12