LA PRO DU PIERCING

Réalisateur : Laurence Moody
Scénariste : Liz Lake

L'HISTOIRE
Bukki, une adolescente de 16 ans est incarcérée à Larkhall. Recouverte de piercing, elle est forcée par Sylvia de tout enlever. Un peu plus tard, elle révèle à Denny et Shaz qu'elle se prostituait. Elle leur montre son piercing sur la langue et leur demande si elles ont de la drogue. Ces dernières déclarent que non et elle montre un fort état de manque.
Shaz trouve un clou par terre et parvient à convaincre Denny de l'intérêt de se percer la langue. Denny accepte et se retrouve avec un trou dans la langue. Malheureusement l'hémorragie ne stoppe pas et la jeune femme est conduite d'urgence à l'hôpital. Elle fait ensuite une septicémie. Shaz se sent terriblement coupable.
Fenner reprend le travail. Il retrouve Karen qui l'évite délibérément. Après avoir discuté avec celle-ci, elle reconnaît avoir une attirance physique pour lui mais a peur de risquer sa place. Jim l'embrasse alors et ils font l'amour.
Yvonne doit témoigner en faveur de son mari afin de lui éviter la prison. Sa fille essaie de la raisonner, sans succès. Yvonne finit par dire la vérité au tribunal et refuse de mentir. Seulement le jury ne tient aucun compte de ses déclarations et innocente Charly Atkins. Alors qu'il sort libre du tribunal, il est abattu sur les marches du palais. Le sourire de sa fille et ses déclarations semblent laisser supposer qu'elle a commandité cet assassinat.
Josh réussit son test d'entrée de gardien. Di est heureuse mais Karen gâche la nouvelle en accusant le jeune homme d'avoir perdu le clou ayant servi à mutiler Denny. Or c'est Di la coupable. En volant un objet appartenant à Josh, elle a fait tomber le clou de sa poche.
Nikki apprend une excellente nouvelle de la part d'Helen. Son avocate a retrouvé une ancienne victime du policier qu'elle a tué. Elle aussi a été violée. Ce qui signifie que le tribunal risque de prendre ce nouveau témoignage en compte et ainsi reconsidérer sa peine.
CAPTURES DE L'EPISODE
Dans l'aile G :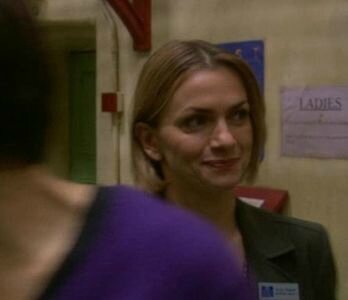 Helen: [hurriedly, like a happy puppy] Have you got a minute? Can I have a word?
Nikki: [pointing toward Fenner] Did you know he was back? I hoped he might take early retirement, but no such luck, eh?
Helen: Never mind Fenner. [grabbing Nikki's arm] Your cell. Now.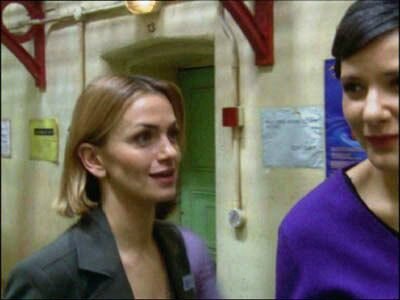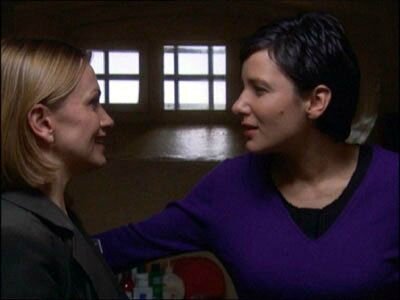 Nikki: [brattily] What? What?!
Helen: [grinning like a fool] It's good news. No; it is fantastic news!
Nikki: What is it?
Helen: Claire Walker has dug up an ex-colleague of Gossard's who claimed he raped her. And get this: She's prepared to tell it to court.
Helen: So, she's unemployed now, this woman.
Nikki: What's her name?
Helen: Sally Ann Howe.
Nikki: Sally Ann Howe. Love you.
Helen: She was on the sick for stress after the alleged attack. But the police closed rank, and in the end she was too scared to press charges. She said that she got a couple of threatening phone calls, as well.
Nikki: Bastards, the lot of them.
Helen: When she heard about you, she decided to come forward.
Nikki: The CCRC can't ignore that, surely.
Helen: The CCRC's gonna take too long. Claire says we've gotta get a petition together to the Home Secretary.
Nikki: Hey? How are we gonna manage that?
Helen: You forget: I work for the Home Office.
Nikki: [unable to hold back her glee] Jesus. I just can't believe it!
Helen: [getting serious] We've been here before. So let's stay calm. You don't need to get too excited too soon.
Nikki: We've never had a bloody witness before. I mean, it's looking positive, i'n't?
Helen: [nodding] It's looking positive. But hang on in there. It's gonna take time. But we're gonna get this thing moving. All right?
Nikki: [softly, as the music swells] Helen. [as Helen turns] Thanks. For everything.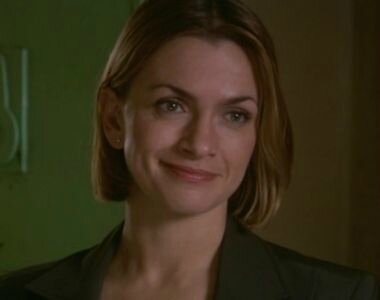 Fenner ne comprend pas l'attitude d'Helen à défendre des tueuses :

Fenner: What is it with you, Stewart? Just gotta look at a murderer and you go moist.
Helen: You're out of line, Jim.
Jim: [stepping closer] Thanks to you, I had to walk back on this wing with a nutter who tried to stick me. And now you're telling me that Nikki Wade the cop killer is innocent too? You make me sick.
Helen: Well, that is a relief. If you approved, I'd know I was doin' somethin' wrong. Get outta my face.
(CCRC pour Criminal Cases Review Commission)
(Sources Captures et Dialogues : Afterellen.com)
ANALYSE DE L'EPISODE

Analyse en anglais de l'épisode par Jennifer T.
This episode examines human capacity for mutilation. These mutilations are both literal and metaphoric, physical and emotional. While this violence is painful to watch, even sadder is the way so many women use relationships to try to protect themselves from being harmed, and in doing so suffer some of the most damaging mutilations of all.
This episode is chock full of examples of physical mutilation. It opens with Buki's arrival. As her mug shot is taken, we see her copious piercings and the scarring on her upper arm, clearly the result of a serious cutting habit. In the next scene, Fenner has returned to work, healed from his mutilation at the hands of Shell. This episode reminds us of other past mutilations caused by women's crimes against dangerous men: Nikki stabbing Gossard with a bottle, Buki knifing her pimp who was trying to steal her money, and (in a grand finale) Lauren taking out a hit on her father.
These acts of violence provide another way of interpreting Buki's seemingly senseless self-mutilations. If we get the tiniest sense of satisfaction thinking of Nikki or Buki or Lauren attacking and punishing these men, protecting themselves and their loved ones, then by extension we can glean a glimmer of understanding of Buki's self-harm. It's self-punishment combined with perverse emotional self-protection when that punishment successfully draws blood.
Like Buki's cutting, Shaz piercing Denny's tongue distills some of the other subtle factors which drive characters to mutilate themselves and others. One factor is the self-absorption of addiction. Di is to blame for the nail falling into Shaz's possession: her obsession with Josh leads to her petty theft of the bandana, a theft which she has to quickly cover up, leaving her without time to find the missing nail in the bathroom. It's also Buki's fault: she's so desperate for drugs that she's willing to provide the studs to Shaz, and she never takes the time to explain how to use them, or to understand Shaz and Denny's intentions. Addictions are very destructive and damaging, not just to the person who's addicted, but to those who suffer the aftershocks.
Another factor is isolation. Shaz and Denny decide to do the piercing without help. They're annoyed with Buki, the only piercing expert available, and so they go it alone. As we see with Buki cutting when she has no one to punish but herself, isolation is a very dangerous thing.
To make matters even more complex, while going it alone is dangerous, Denny and others struggle to differentiate between offers of help, support and intimacy, and the danger that can come from allowing someone too close. Shaz, with her active role in the piercing incident, embodies the danger inherent in any intimate relationship. While Denny views Shaz as someone who provides support and won't put her in danger, in reality Shaz has a reckless, impulsive streak, with very little consideration of consequences. Denny is wary of Shaz's piercing idea, but Shaz's persuasiveness wins out over Denny's better judgment.
Like Denny, Karen also struggles to trust her judgment and resist the pressure from a lover. Fenner wants to resume his relationship with Karen, but Karen feels some hesitation: she only visited him once when he was in the hospital, and that was to interrogate him, and she avoids his overtures when he returns to work. Fenner corners Karen in her office, sitting on her desk in a gesture of assumed intimacy. Karen tells Fenner that they need space, and when she does so she actually gets up and moves away from Fenner, in order to create a real physical distance between them. She attempts to establish her authority and put a professional distance between them, but Fenner doesn't allow Karen the space she needs to resist the emotional power he has over her: instead he gets up and moves up close to her, crowding her, his intrusive closened leaving her without the emotional space to make a decision for herself. By the end of the scene, they are kissing, in a scene only slightly less horrific than Denny spitting blood into the sink, but (from an emotional perspective) no less mutilating.
Mixed in with these storylines of relationships engendering physical or emotional mutilation are numerous examples of affirming help and support. Karen mentors Josh, offering to help him with his application. Sally Ann Howe comes forward to testify on Nikki's behalf, due to the tireless effort of Claire and Helen. The inmates all band together to intimidate Fenner; it's a full on group effort.
Yvonne at first seems to follow Denny and Karen's pattern of submitting to pressure from a loved one against her own self-interest. Heading into Charlie's trial, having agreed to testify on his behalf, it appears Yvonne is submitting to the pressure and bribery of her philandering husband. But it turns out Yvonne isn't going to be a Karen or a Denny, but instead a Helen or more specifically a Sally Ann Howe, standing up in a courtroom, testifying against the man who did her wrong. When Yvonne screws Charlie over, her daughter Lauren is thrilled—Yvonne is no longer a woman screwed over by a man, but like all the inmates against Fenner, she's bonded together with her daughter against her husband.
The only romantic couple who manages to stay bonded together despite the odds, who supports rather than undermines, is Helen and Nikki. Their brief scene in Nikki's cell contrasts strikingly with the scene between Karen and Fenner in Karen's office. Unlike in their scene in S3E2 (when Helen tells Nikki to hold on "for us") Helen isn't sitting or standing over Nikki, so there is no sense of her attempting to assert her authority. Instead she flirtatiously jokes about that authority ("Your cell. Now."), and then sits down at Nikki's level, establishing an emotional equality between them. Unlike Karen's discomfort with Fenner's proximity and interest, Helen is comfortable physically with Nikki. She's confident that Nikki has respected her decision to put their relationship on hold while she is still a prisoner, knowing Nikki won't attempt to bully or emotionally pressure her into doing something that goes against her better judgment, the way Fenner does with Karen.
The unique camera work in this scene emphasizes the respectful independence between Helen and Nikki. As the camera zooms in on Nikki and leaves Helen out of the frame, we feel the distance Helen is maintaining between herself and Nikki—she has stood slightly apart from Nikki as she shares the good news. Unlike Karen and her decision about being with Fenner, Helen is sticking to her guns regarding her relationship with Nikki. Yes, they are in this together, but there are barriers and she's holding them firm. In addition, by staying out of Nikki's frame, Helen allows Nikki to be her own autonomous person, in control of herself. Karen and Denny probably wish they had been allowed the same autonomy.
This kind of support and loyalty in a relationship, without pressure and intimidation, is incredibly powerful. A relationship is double-edged sword: it creates and heals abuse, mutilation and mistreatment. The hope for its healing power keeps characters connected. It's why Shaz desperately wants to see Denny in the hospital. It's why Fenner is angry with Karen for not visiting him while he was recovering, and it's why Karen kisses his scar after they're reunited. And it's why Helen works tirelessly for Nikki's appeal, while denying herself and Nikki the intimacy they both crave. Helen is trying to protect herself from the sword's other devastating edge.
(Source : www.badgirlsannex.com)
Lire la suite : BadGirls 3-06