PIEGE

Réalisateur : Mike Adams
Scénariste : Martin Allen


L'HISTOIRE
Shell, qui a réussi à se procurer un téléphone portable, en profite pour appeler la femme de Fenner en pleine nuit. Le lendemain matin, Helen arrive à Larkhall et croise Nikki dans la cour. La Directrice ignore consciemment la jeune femme. Hollamby arrive avec un gros bouquet de fleurs dans le bureau des officiers tout en faisant croire à Jim que cela vient d'une admiratrice mystérieuse. Fenner est de plus en plus persuadé que c'est Nikki qui se cache derrière la lettre anonyme et le coup de téléphone reçu par sa femme. De plus, Shell en rajoute bien volontiers en lui disant que Nikki s'est très certainement procurée un portable. En sortant de la cellule de Shell, Jim tombe sur Karen. Ils évoquent un peu le passé. Denny aimerait offrir une carte à sa mère Jessie Devlin pour son anniversaire. Malheureusement, elle ne possède pas assez d'argent. Les fleurs, qui étaient destinées en fait à Yvonne Atkins, ont été laissées intentionnellement par Hollamby plusieurs heures sur le radiateur. Et c'est un bouquet fâné qui est apporté chez Yvonne.
Fenner débarque dans la cellule de Nikki. Il veut absolument trouver le téléphone portable et prétexte un contrôle pour essayer de trouver de la drogue. Nikki est opposé à cet abus d'autorité et commence à hausser le ton. Dominic qui n'était pas très loin, vient rejoindre Jim et se prend une gifle de la part de Nikki qui est totalement hors d'elle. Et c'est empoignée par pas moins de trois hommes qu'elle est conduite au bloc.
Yvonne est très touchée par Denny et sa mère alcoolique. Elle décide de l'aider. Elle va aussi demander à l'homme à tout faire de la prison, Josh Mitchell, de faire un peu de contrebande pour elle en échange d'un peu d'argent. Dominic va voir Helen pour lui raconter l'incident avec Nikki. Helen ne comprend pas ce qui a pu se passer et surtout que Nikki puisse avoir caché de la drogue dans sa cellule. Elle parle à Jim de cette histoire, mais il détourne aussitôt la conversation sur le fait que Nikki a agressé Dominic. Les deux Julies ont concocté une carte d'anniversaire pour Denny. Celle-ci est très touchée par le geste des deux femmes et la montre à Yvonne. C'est à ce moment-là que Shell vient récupérer Denny, visiblement très jalouse de l'intérêt que Denny porte à Yvonne.
Helen se rend au bloc pour avoir une conversation avec Nikki. Elle lui apprend qu'elle restera en isolement pour une semaine et qu'elle perd son statut de privilégiée. Nikki lui dit ce qu'elle pense et Helen s'en va en la laissant encore plus en colère qu'auparavant. Shell continue à harceler Maryline Fenner et décide de tendre un piège à Jim pour prouver à sa femme qu'elle a bien une relation avec lui. La fille d'Yvonne va à la rencontre de Jessie Devlin et lui donne une enveloppe contenant une grande somme d'argent et lui souhaite un joyeux anniversaire. Jessie vient trouver Denny durant les visites et est visiblement très émue de l'intention de sa fille. Zandra, de retour dans la section, remercie Dominic de lui avoir sauver la vie. Celui-ci lui dit que si elle a envie de parler, il sera toujours présent.
Nikki demande à voir Helen et est très grossière quand elle voit arriver Karen Betts. Juste au moment où Karen la met au rapport, Helen arrive. Une fois l'officier partie, Helen demande à Nikki de changer son comportement mais la jeune femme est toujours aussi blessante. S'en suit une conversation inattendue que Nikki regrettera.
Sur les ordres d'Helen, Nikki est transférée vers une autre prison. Pendant ce temps, Shell paufine son plan et dit à Maryline de se tenir près du téléphone. Elle la rappellera lorsque Jim l'aura rejoint dans sa cellule. C'est partagée entre peine et colère qu'Helen regarde le fourgon emmener Nikki loin de Larkhall. Jim arrive enfin dans la cellule de Shell qui a déjà caché le portable dans les draps de sa couchette. Cela va enfin donner une preuve audible à Maryline que son mari a des relations sexuelles avec Shell ! Maryline vient apporter les affaires de Fenner à la prison même tout en lui donnant une gifle bien méritée. Ensuite, Helen informe Jim du transfert de Nikki le matin même. Celui-ci, arrivant à nouveau à faire deux plus deux, commence à comprendre que Nikki n'est pas la responsable du coup de fil à sa femme puisqu'elle était dans le fourgon ! Il se précipite dans la cellule de Shell pour trouver le portable. Une fois trouvé, il roue de coup la jeune femme et se dépêche d'aller se débarrasser du téléphone. Shell est retrouvée gisant sur le sol de sa cellule et le visage ensanglanté par Karen. Elle l'amène chez Helen qui lui demande ce qui c'est passé. Shell lui dit tout, sa relation avec Jim ainsi que les coups de fil à la femme de Fenner et la machination pour faire croire que Nikki était la responsable.
A ces aveux, Helen décroche le téléphone, appelle le fourgon puis se rend chez Stubberfield. Peu après, Jim fait son apparition dans le bureau et donne une vision toute personnelle de la situation. Simon est près à passer l'éponge, mais Helen n'est pas du tout d'accord et demande la suspension de Jim. Et c'est sous les sifflets des autres détenues et sous le regard étonnée de Nikki revenant à Larkhall que Jim s'en va. Simon n'est pas convaincu que suspendre Jim était une bonne chose. Après une conversation houleuse, Helen lui dit qu'elle n'aime pas du tout la manière dont est gérée cette prison.
Un peu plus tard, Helen se rend dans la cellule de Nikki. Elle lui présente ses excuses et lui annonce sa démission. Nikki ne peut pas y croire et lui demande ce qui va se passer maintenant. Comme elle n'a dorénavant plus rien à voir avec Larkhall, Helen lui prend le visage et l'embrasse passionnément. Nikki supplie Helen de rester, mais celle-ci refuse. Une fois Helen partie, Nikki reste seule, assise sur sa couchette, les larmes aux yeux.
CAPTURES DE L'EPISODE
Helen arrive à Larkhall pour une nouvelle journée :

Helen tente de tirer des informations à Fenner à propos de l'altercation avec Nikki. Helen ne peut que lui faire confiance :

Helen: I don't think I like this unorthodox approach of yours, Jim.
Fenner: Well, I know you have a special interest in Nikki Wade. I'll call you every time I have dealings with her in future, shall I?
Helen: [sharply] Let me be the judge of what happens, all right?

Une tempête dans la cellule d'isolement... :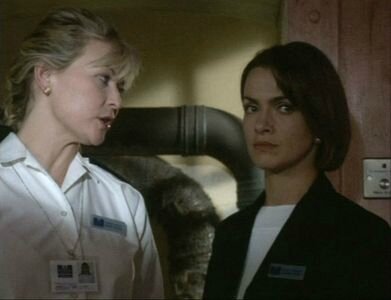 Helen: OK, Nikki, this is it. I have given you every chance to make things better for yourself here.
Nikki: Lucky they're still alive.
Helen: Oh, that's really intelligent talk.
Nikki: Do you honestly think I've got drugs in my cell?
Helen: If an officer suspects you —
Nikki: Don't give me that. Fenner's as bent as they come, and you know it.
Nikki: The bastard was chucking my books around!
Helen: [getting in her face] You only have those books because of me. Any more of this crap, and I will take them away.
Nikki: What?
Helen: You heard.
Nikki: You're only behaving like this because you can't handle it. So why don't you give in, Miss, and stick your tongue down my throat?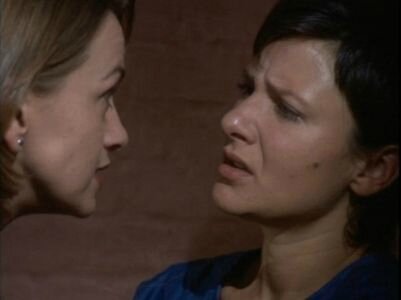 Plus tard, Karen passe voir Nikki au bloc :
Karen: Well?
Nikki: Is that an interjection, or an inquiry after my health?
Nikki: Who're you, anyway? It's Helen Stewart I want to see.
Karen: Is it, now? Well, I'd better warn you, I'm not the kind of officer who runs errands for prisoners.
Nikki: Well, as long as you piss off when I ask you to, frankly, I couldn't give a toss.
Karen: I can't work out if you want trouble or whether you're just stupid. But either way, you're in for it.
Nikki: Oh, golly.
Helen: So, no improvement in your behavior?
Nikki: [silence]
Helen: Is that a no?
Nikki: It's a "piss off," like I just gave that other tart. You gonna put me on report as well?
Helen: Why are you being like this? Can't you see what you're doing to me?
Nikki: And what about what you're doing to me?
Helen: Don't make this any harder for me!
Nikki: Yeah, must be hard, getting angry with someone you've snogged.
Helen: Oh, please, Nikki. Be serious.
Nikki: I want to make love to you all night long. Is that serious enough?
Helen: [stunned silence]
Nikki: I know I knock Fenner. At least when he fancies a con, he has the courage to give her one.

Helen se tient devant Nikki lors de son transfert :
Nikki: At least tell me where I'm going.
Helen pensive, tient le dossier de Nikki dans ses mains :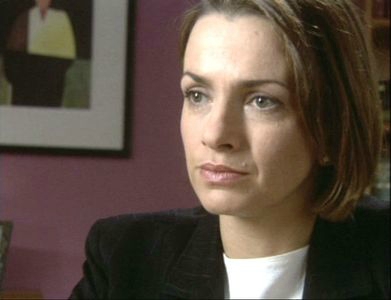 Dans le bureau d'Helen, Shell raconte l'histoire sordide entre elle et Fenner :
Helen réalise qu'elle a transféré Nikki pour de mauvaises raisons et saute sur le téléphone :
Dans le bureau de Stubberfield, Fenner donne sa version ridicule de l'histoire de Shell. Helen n'est pas prête à laisser faire :
Helen: Either he goes, or I go. If you don't care what goes on in this prison, I'll take it up with area management.

Simone soupçonne que la suspension de Fenner ne soit qu'un feu de paille :
Simon: Can I remind you that I am in charge in Larkhall, whether you like it or not?
Helen: [yelling] Well, I don't like it! I don't like it one bit.
Helen vient rendre visite à Nikki dans sa cellule. Pour la dernière fois ?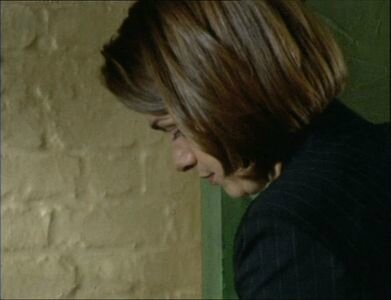 Helen: Nikki, I want to apologize. You told me you were provoked by Fenner. I've reason to believe you now.
Nikki: Oh, well, bloody marvelous. I'm shipped 'round the country in a cattle truck while you work out the obvious.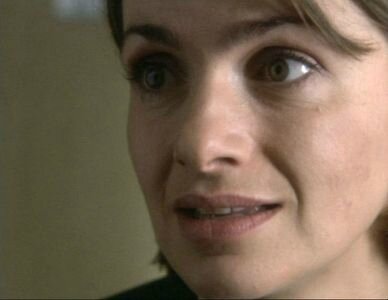 Helen: I said I'm sorry.
Nikki: So what's brought this on, then?
Helen: Fenner's just been suspended, over a suspected relationship with an inmate.
Nikki: Not Shell Dockley by any chance?
Helen: Listen, Nikki — about what happened today. I let my emotions cloud my professional judgment. I thought I could fight them. I was stupid.
Nikki: What are you saying?
Helen: I won't be looking after your case anymore.
Nikki: What?
Helen: I've resigned.
Nikki: Helen, you can't do this to me. This isn't fair.
Helen: Listen, I've just suspended Jim Fenner when I'm guilty of the same offense — in thought, if not in deed.
Nikki: [shaking her head] So what now?
Helen: Well, I'm not your jailer anymore ... which means I can do this.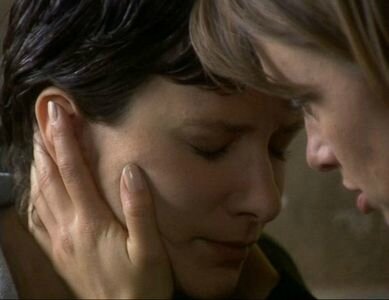 Nikki commence à pleurer :
Helen: What?
Nikki: Say you'll visit me. Please. Say you'll visit me.
Helen: Nikki, it's too difficult.
Nikki: Helen, you can't leave me like this. This is shit.
Helen: [caressing Nikki's cheek] Shit happens.
(Sources Captures et Dialogues : Afterellen.com)
ANALYSE DE L'EPISODE
AUTEUR : RICHARD B.
Truth Telling
Truth challenges people in two ways: (1) it is difficult to know, and much easier to ignore or repress, and (2) it is difficult to use compassionately. In a closed institutional environment like Larkhall, knowing the truth is particularly difficult in the face of the prison hierarchy's commitment to 'official history'—a lie everyone has agreed to agree upon. This episode epitomizes one of the themes of Bad Girls, Series 1 – 3, as characters fight an uphill battle in their struggle for authenticity within themselves and their relationships. For so many characters the truth is oftentimes unbearable and potentially destructive.
This episode is full of minor lies, all part of the day-to-day activities of most characters. First off, Sylvia playfully presents flowers to Fenner deceiving him 'as if from a secret admirer' when they were really Charlie's gift to Yvonne. Secondly, Yvonne resents Josh's extortionate £100 charge for smuggling underwear. He claims the price is fair, blaming (half in jest) 'overheads' and 'market forces' when in reality he's charging as much as he can to cover his very real risk of losing his job. Thirdly, in an act of self-protection, Fenner lies to Karen about his relationship with his wife, describing his marriage as 'rock solid.'
In this world where lies are so habitual, caring and kindness is only occasionally demonstrated. Dominic expresses his concern for Zandra, showing her the reality of her lack of self esteem. Dominic's honest and open communication with Zandra about his fear of her dying, and his joy that she didn't, finally softens her up and frees her. Yvonne is equally compassionate in her gift of money to Jessie. She knows Jessie is destitute and needs the money to set her life back up, but Yvonne fatally ignores the reality of Jessie's alcoholism and the inevitability that the money will cause her to sink back into alcoholism. Compassion without a clear view of the truth of a situation can be as destructive as cruelty.
Other than these small attempts at caring and kindness, most other character use truth (or the denial of it) as a weapon. Staying true to her vindictive nature, Shell exposes the suppressed truth about Fenner's marital infidelities, but does so only out of selfish motivations, so that she can victimize Marilyn Fenner and get back at Fenner. Shell uses Fenner's paranoid suspicions of Nikki for her own ends, planning to get revenge both against Nikki and Fenner. To get back at Fenner for assaulting her, Shell writes poison pen letters and makes phone calls to Marilyn. Shell entices Fenner into her cell using her mobile phone to set him up to unknowingly reveal his true feelings about women: his wife is just his wife and other women are 'whores.' Like any good sociopath, of course, Shell's relationship with the truth is extremely malleable—she doesn't hesitate to lie about the phone calls later, even when telling the truth to Helen about her relationship with Fenner.
The truth is a weapon in Helen's hands as well, but in her case it is her denial of the truth, not her desire to expose it, which is so destructive. Helen represses the truth of her sexual interest in an inmate, but with the selfless goal of not compromising her position as Wing Governor to operate for the 'greater good.' As Helen enters Larkhall at the start of the episode, she blatantly ignores Nikki, just as she is trying to blatantly ignore her attraction for Nikki. She's punishing Nikki for her open and truthful expression of love the previous night. In repressing the truth of her emotions, and trying to repress Nikki's expression of them as well, Helen treats Nikki in a cold and cruel manner, pushing Nikki into the emotionally raw condition which leads her to lash out at Fenner and Dominic during their search of her cell. Later in the episode she uses her career to deny what she feels: she actually defends Fenner when Nikki makes accusations against him, even though she knows he's not all that saintly. Given their long history, it's hard to imagine Helen actually believed Nikki had drugs in her cell; instead she used Fenner's accusations as a way of getting Nikki out of her hands.
Nikki falls victim to Fenner's dishonesty as well. While Nikki is dragged away, Fenner talks vaguely about a drugs bust so Dominic is kept in the dark about Fenner's real reason for searching Nikki's cell (to find the mobile used to harass his wife). Fenner uses both position and situation to get Dominic to relay the complaint to Helen. This creates Helen's worst nightmare where her affection for Nikki and her need to punish Nikki's bad behavior are forced against each other like two icebergs colliding, leading to her disastrous treatment of Nikki.
In contrast to Helen, Fenner, and Shell, Nikki serves as a model of authenticity and loyalty. She'd had an unspoken agreement with Helen that if she was 'treated like a human being' and with justice, she would act with moderation and restraint. In this situation, she was having a quiet read, gets picked on for no reason and is hauled off down the block. She's angry at Helen for not seeing through Fenner, and uses the relative privacy of solitary to expose the truth of her own feelings (both her love for Helen and her anger at Helen's treatment of her); and the truth of Fenner's fundamental dishonesty ("Fenner's as bent as they come and you know it"). The result? She's shipped out, Helen's final attempt to repress the expression of the truth.
In the climax of the episode, no one is able to avoid the truth any longer. Shell's manipulation of the truth finally blows up in her face as, unknown to her, Nikki had been shipped out, and Fenner realizes Shell is the mastermind behind the mobile. With an unnerving calmness and viciousness, Fenner enters Shell's cell, finds the phone, and in a chillingly methodical manner, beats Shell up. Karen sees the immediate aftermath of this assault and sits in on Helen's interview of Shell, both Helen and Karen finally hearing of the truth of Fenner's relationship with Shell and also the truth about Rachel Hicks' affair with Fenner. Helen's long-held suspicions are converted to solid fact.
In the final confrontation scene between Helen, Stubberfield, and Fenner, Helen reaches out for the power that this knowledge of the truth gives her. Unlike the earlier scene in Series 1 Episode 5 when Helen was sidelined in the discussions after Rachel Hick's death, Helen uses all of her strategic power and determination to make sure the truth about Fenner comes out. Despite Fenner's 'official report', the all-time lie of Shell 'headbutting the floor,' and Stubberfield mouthing the right words as a preparation for a cover-up, Helen finds Stubberfield's weak spot, complaining over his head to Area Management. Helen is masterly in asking the right questions to get at the truth, leaving Fenner and Stubberfield reduced to exchanging sidelong glances and negating the authenticity of the 'written report.' She reduces both of them to relative silence and scores over both of them. When Helen is on her own with Stubberfield, she superbly turns all his devices back on him. In his final attempt to pull rank and enforce a cover-up of the truth, Helen storms back with a furious and unforgettable "Well, I don't like it."
Shed's subtle bit of writing was to deploy this anger so that Helen actually lets go emotionally, just the smallest bit, which leads to her emotional floodgates crashing open. She can't suppress the truth about her own feelings for Nikki any longer, not to herself, and not to Nikki. Earlier in the episode when she caresses Nikki's photo gives us a great deal of information about her feelings—she's literally fetishizing the mug shot, which is rather a passionate, lustful thing to do—but she still won't let herself caress the real Nikki.[3] By bringing Nikki back after learning the truth of Fenner's cell search, she has already tried to correct the harm done to Nikki due to her own emotional repression and Fenner's lies.
Whatever actions Helen takes to make things up to Nikki, she's still not ready to fully embrace the truth of her feelings. She resigns, unwilling to continue to participate in a regime riddled with dishonesty, but she is still confronted by her own habitual repression. When she goes to talk to Nikki, she doesn't mention any of the issues she's been dealing with up in Stubberfield's office, and talks only about her hypocrisy as her reason for quitting. Helen chooses very carefully what to reveal and what not to reveal. And it's not always (or even usually) about being emotionally open and vulnerable with Nikki and emotionally guarded with others. Helen is guarded with everyone—she never really shows all sides of herself. It's no accident that she only shares her feelings and desires with Nikki at a moment when there is no danger of their relationship going any further. The truth of her feelings for Nikki are still very dangerous to her, and can be expressed only when they can be contained.
This finale shows how far Helen and Nikki are from the way relationships take place in normal situations, where 'the truth should set them free where they can love each other.' In an insular institutional world, the truth is more likely to leave people destroyed and alone. The truth sees Nikki abandoned and Helen walking away. The truth Helen finally sees is that in her current position she is powerless to change anything in Larkhall, from Fenner's abuse of women to her feelings for Nikki.