Match Retour
Réalisateur : Laurence Moody
Scénariste : Jaden Clark

L'HISTOIRE
Shaz ne supporte plus d'être seule et d'être le souffre douleur de Al. Elle saccage sa cellule et est conduite à l'infirmerie. Là, le Dr Thomas découvre ses hématomes et réalise qu'elle est régulièrement brutalisée. Il souhaite l'aider mais Shaz refuse de parler. Il a alors l'idée de la faire rencontrer Diane, une détenue qui pratique les arts martiaux. Shaz commence alors un dur entraînement et reprend confiance en elle.
Helen surprend Fenner trop près d'une détenue. Elle l'accuse ouvertement mais personne n'a rien vu. Thomas ayant été présent, elle lui confie ce qui s'est passé la dernière fois avec Jim, lorsqu'il l'a agressé. Thomas décide de l'aider à faire renvoyer Fenner.
Yvonne souhaite également voir disparaître Jim. Elle découvre qu'il récupère l'argent des bordels de Virginia et confie l'information à Helen.
Gina ne veut plus entendre parler de Marc. Elle prend rendez-vous pour se faire avorter mais Josh parvient à la convaincre de parler avec son petit ami. Il lui confie que Di a tout fait par le séparer de sa fiancée. Gina parle alors avec Marc qui lui fait une belle déclaration d'amour. Ils décident de se marier et de garder le bébé. Mais Di fait encore des siennes et Gina l'agresse violemment. Durant la bagarre, elle tombe et perd le bébé.
L'audience de Crystal est enfin avancée.
Fenner s'arrange pour obtenir une cellule individuelle à Virginia. Alors qu'elle est seule, celle-ci se lève soudain et se met à marcher.
Helen a passé la soirée avec Thomas aux courses de chiens. Ils rentrent finalement chez Thomas boire un dernier verre. Alors que ce dernier s'apprête à lui faire une déclaration, elle l'arrête avant qu'il ne parle trop. Ils s'embrassent pourtant et passent la nuit ensemble.
CAPTURES DE L'EPISODE

Helen plaisante avec Thomas lorsqu'elle surprend Fenner marcher près de Maxi, la main dans son dos. Elle l'interpelle et attend que le groupe de condamnées s'éloigne :
Fenner: Something wrong, Helen?
Helen: [seething] Perhaps you can explain why you feel the need to manhandle the prisoners.
Fenner: [innocently, looking at the Doc] I wasn't aware that I was.
Helen: You know the rules. I will not tolerate overfamiliarity with the prisoners.
Fenner: [stepping closer] And that's an accusation, right? I was showing the girls back on the wing. If you think you saw something different —
Helen: I know what I saw.
Fenner: Well, let's get a second opinion, then, shall we? Dr. Waugh, did you see anything?

Mais Thomas ne sait pas quoi dire et les choses en restent là.

Dans le bureau d'Helen, Thomas tente de s'excuser de ne pas l'avoir soutenue mais elle l'ignore et marmonne sur les réunions qui l'attendent :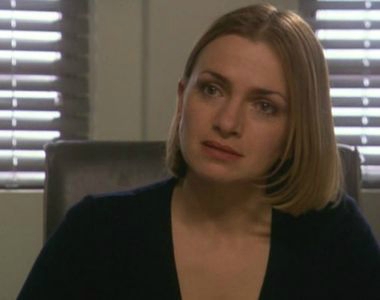 Thomas: [interrupting] You know I'd back you all the way if I could. I just didn't see anything.
Helen: Well, maybe I didn't.
Helen: I don't know.
Thomas: But you thought you did.
Helen: God, you must think I'm some sort of madwoman.
Thomas: It just so happens they're a speciality of mine.
Thomas: I'd like to help. If you'll let me.
Helen: I had a run-in with Jim Fenner. No, it was more than that; a lot more.
Elle se lève vers son armoire et prend le rapport qu'elle a rédigé après l'agression de Jim. Elle le donne à lire à Thomas :
Helen: I wrote it all down when it happened so I wouldn't forget.
Helen: I'm gonna get Fenner out of Larkhall and away from working with women for good.
Thomas est du coté d'Helen :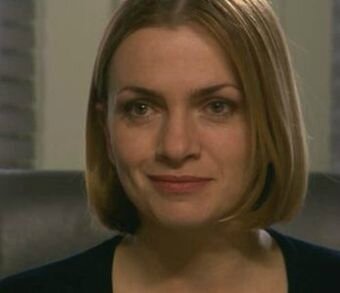 Thomas: I am involved.
Karen se confronte à Helen à propos de Maxi et affirme qu'elle ne doute aucunement de son amant chéri :.
Karen: Jim Fenner is a bloody good officer. With only the women's best interests at heart.
Helen: Jim Fenner's only got one set of interests at heart: his own.
Karen: Maybe it's time you got whatever you want to say off your chest.
Helen: All right. I don't think Officer Fenner should be working in a women's prison. In fact, I don't think he should be allowed near women at all. Any women.
Karen: Does that include me? Do you really think I'm so weak, so stupid, that I'd be living with the type of man you've just described?
Helen: You're too close, Karen. You can't see it.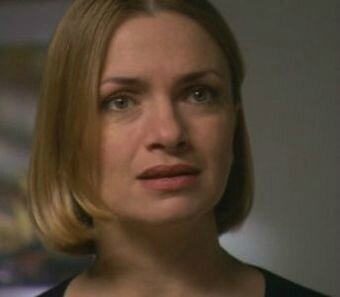 Karen: [starting to walk out] Much as I appreciate your continued interest in my personal life, in future I'd thank you to keep your opinions to yourself.
Helen: I don't want to fall out with you. This isn't about you.
Karen: If I get so much as a hint of you harassing Jim again, we'll make this official. And believe me, you will have one hell of a battle on your hands.
Helen invite Thomas à venir boire un verre. Déjà pris, Thomas lui propose de l'accompagner voir une course de chiens.

Helen: I might even owe you a drink.
Thomas: Sure, yeah, I'd love to.
Helen: So how're you fixed for tomorrow night?
Thomas: Ah. The thing is, I'm going to the dogs. Dog races.
Quelqu'un glisse un message sous la porte du bureau d'Helen. Peu après, Helen se rend dans l'aile G et s'adresse à Yvonne :
Yvonne: Find it interesting, did ya ?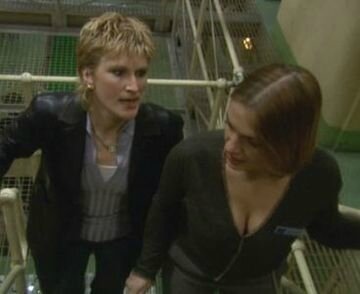 Helen lui répond qu'elle a besoin de plus qu'un avis ou des accusations d'une détenue mais Yvonne lui répond qu'elle peut lui procurer une liste des bordels dont Fenner collecte les fonds.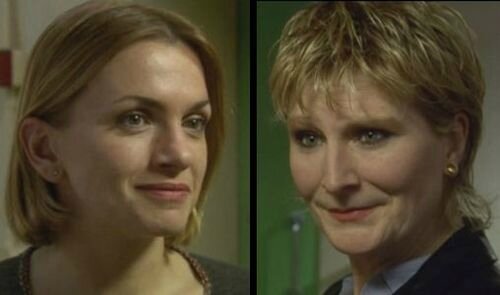 Plus tard, Helen réclame à Yvonne la liste dont elle lui a parlé. J'ai quoi en échange Miss Stewart ?


Helen: I don't do deals with prisoners, Yvonne. Come on, you should know that.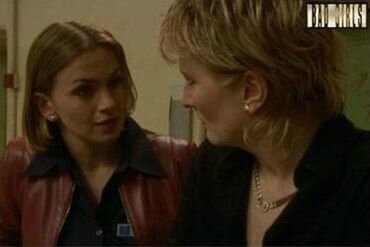 Helen et Thomas sur un canapé... après leur soirée aux courses de chiens :
Thomas: And that was for ...
Helen: For believing in me. And for being a good man. I was beginning to think there weren't any left.
Helen: And because I feel sorry for you.
Thomas: Oh, you were doing so well.
Helen: I feel sorry for you because I'm gonna whup your ass at the dogs tonight.
Thomas : Don't tell me you've never wanted to stray, Helen. Not even once? [handing her the joint]
Helen: Why should I?
Les joints, ça fait tousser...
Thomas: You shoulda said.
Helen: See, that's where crossing the line gets ya. [raising her glass] I think I'll stick to what I know.
Thomas: Life moves on.
Helen: And has it?
Thomas: These last couple of months, more than I ever imagined it could. Helen, I really —
Helen: [interrupting] Should we have one for the road?
Thomas: Don't you want to hear what I've got to say?
Helen: Maybe a bit too much.
(Sources Captures et Dialogues : Afterellen.com)
Lire la suite : BadGirls 3-15