LA PUNITION

Réalisateur : Jim O'Hanlon / Scénariste : Ann McManus
L'HISTOIRE
Sean demande Helen en mariage. Shell et Denny veulent avoir la preuve que Zandra continue à se droguer et que quelqu'un à l'intérieur de la prison l'approvisionne. Monica reçoit une nouvelle viste de son fils Spencer et elle s'aperçoit que celui-ci est sérieusement malade. Toujours auprès de Zandra, Shell réussira à découvrir la drogue qui était cachée dans le matelas.
Lorna, après avoir appris de Dominic qu'Helen est au courant de l'évasion de Zandra (voir épisode 6) et qu'elle n'a plus de soucis à se faire, interpellera Zandra et lui dira que désormais il est inutile de la faire chanter pour obtenir la drogue. Malheureusement, Shell est présente et utilisera cet argument pour faire pression sur l'officier et l'obliger à l'approvisionner elle !
Helen annonce aux officiers sont intention de transférer Nikki au 3ème étage. Seul Dominic approuvera cette décision. A la fin de la réunion, Dominic et Fenner ont des mots et le jeune homme reproche à Jim son attitude envers Shell. Sylvia vient annoncer son transfert à une Nikki totalement incrédule. Shell, voyant arriver Nikki sur son territoire, semble totalement effrayée et hors d'elle. Dominic, bien décidé à faire perdre à Shell de sa superbe, va commencer à fouiner tout autour de la jeune femme. Plus tard, Shell entrera dans la nouvelle cellule de Nikki pour venir la menacer et la provoquer. Lorna, préoccupée et ne sachant pas comment se sortir d'un tel pétrin, a failli se faire surprendre par Fenner alors qu'elle était entrain de cacher de la drogue pour Shell dans une boîte de Smarties.
Sean vient donner un cours de botanique à Larkhall. Après la classe, il discute un peu avec Nikki jusqu'à ce qu'Helen arrive. Et là, Nikki va se rendre compte que le jeune homme est en fait le fiancé d'Helen et qu'il lui a fait sa demande en mariage. Après avoir quitté la salle de cours de manière précipitée, Nikki se change les idées dans le petit cabanon de jardinage. Helen la rejoint peu après et elles auront une très sérieuse conversation. Nikki avouera ses sentiments à Helen mais celle-ci le prendra très mal.
Dominic, se doutant que Shell fait du trafic de drogue, ira fouiller la cellule de la jeune femme en compagnie de... Lorna ! Helen totalement perturbée par la révélation de Nikki demandera à voir la jeune femme pour mettre les choses au point. Dominic va découvrir la drogue tant recherché et en fera part à Jim. Shell demandera de l'aide à Fenner mais celui-ci, totalement énervé par sa récente conversation avec le jeune homme, l'a menacera. La punition est lourde : Shell retourne au 1er étage. Et elle commencera à perdre son sang froid. Elle tuera son canari avant de le jeter dans les toilettes..
CAPTURES DE L'EPISODE

Helen où l'art d'esquiver la question du mariage...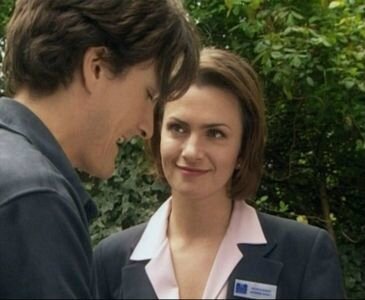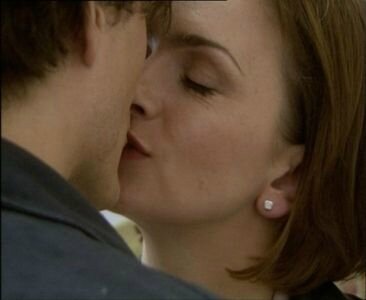 Sean: Look, if you really don't fancy it, that's OK. I'm not gonna bulldoze you into anything.
Helen: Sounds like you are.
Sean: [grabbing her] OK, I am. Are you trying to give me a complex? Hmm?
Helen: [giggling] Oh, I love you.
Sean: So marry me
Helen: Can we talk about this later? I've really, really got to go.


Le bureau des officiers : Helen est en réunion avec ses gardiens et parle de Nikki Wade :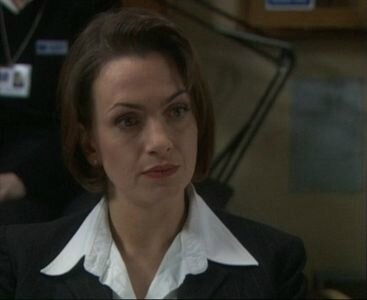 Helen: I see that we've got a vacancy on G-3. I'd like to put Nikki Wade up there.
Everyone else: [stunned silence]
Helen: Well, don't all talk at once.
Fenner: Wade? On Enhanced? Are you joking?
Helen: Obviously I'm not, Jim. Lorna, you're Nikki's personal officer. What do you think?
Lorna: Yeah, fine.
Hollamby: Fine? She's worse than ever since she was put on that university course.
Helen: [standing up and pacing] No one is denying that Nikki is difficult.
Fenner: So, Helen, what exactly are you trying to prove?
Helen: [stern stare]
Dominic: Look. Nikki Wade's a pain in the ass. But recently, you've gotta admit
Hollamby: A few weeks' good behavior and she gets the run of the place.

Helen rend visite à Nikki à son nouvel étage de "privilégiée" :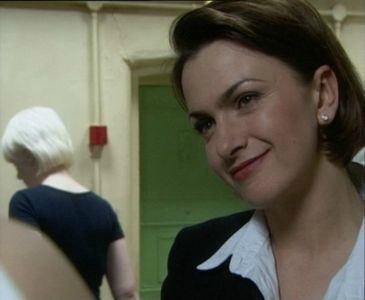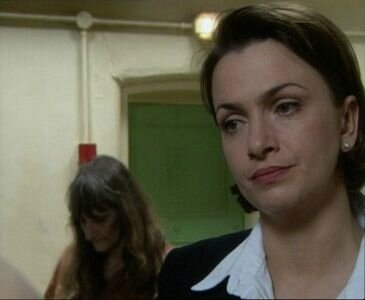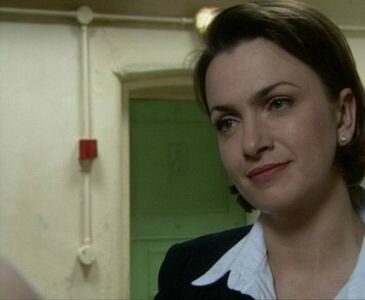 Helen: How are you settling in?
Nikki: Fine. Great view. Feels different being up here officially.
Helen: Nikki, I'm sure I don't need to spell it out, but being on Enhanced does have its responsibilities. You know that, don't you?
Nikki: Yep.
Helen: I need to know that I can trust you.
Nikki: I promise to behave myself and say my prayers before I go to bed, all right?
Helen: [sighing and looking dejected]
Nikki: Look, I'm not very good at this sort of thing. But thanks. Thanks a lot.
Helen: It's OK.

Après son premier cours de jardinage donné aux détenues, Sean discute avec Nikki et Helen. Il vend la mèche en annonçant qu'Helen est sa compagne :
Et ce n'est pas du goût de Nikki :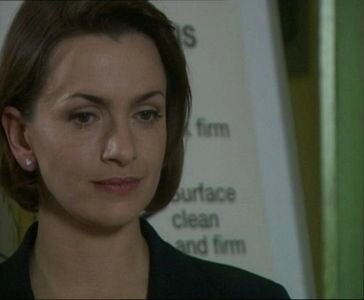 Helen: Hi, Nikki.
Nikki: Hiya.
Helen: [to Sean] So how did it go?
Sean: It was hell. I thought about using that panic button you mentioned. Anyway, home time. And you're doing the cooking.
Nikki: [stunned expression]
Helen: Sorry. Didn't Sean tell you? He's my partner.
Sean: Well, you won't be calling me that for much longer. [to Nikki] She just asked me to marry her. Forced me to say yes.
Helen: So, how did you enjoy the class, Nikki?
Nikki: Well. You learn something new every day.

Dans l'abri de jardin, Nikki s'occupe comme elle peut, énervée d'avoir appris qu'Helen va se marier. Celle-ci vient l'interrompre :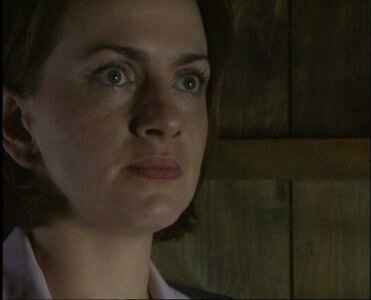 Nikki: Here comes the blushing bride-to-be. Kept that quiet, didn't you?
Helen: Sean had just asked me to marry him. Not that it's any of your business, actually.
Nikki: [shrugging] Why are you telling me then?
Helen: I really don't know, but I certainly don't have to explain myself to you.
Nikki: Fine.
Helen: You know, for some odd reason, it seems to upset you, Sean and I getting married.
Nikki: Odd reason. That's a good one.
Helen: Nikki, what the hell is this about?
Nikki: [raising her voice] You really don't know?
Helen: If I knew, I wouldn't be asking you, would I ?
Nikki: You wanna know what this is about? It's about this ( And she takes Helen's hand and puts it on her breast. Um, on her own breast.
Helen: Jesus Christ.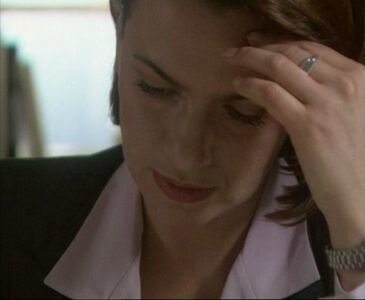 Helen : Can you bring me Nikki Wade, please? Thanks.


Dans le bureau d'Helen, Nikki commence à s'excuser pour ce qu'elle a fait :
Nikki: Look, I'm sorry, I was out of order, I was just...
Helen: [loudly and sternly] I don't care what you were, Nikki.
Nikki: [silent, pained stare]
Helen: You'll understand if I'm blunt. Now, I know that you're a lesbian, and you're comfortable with that and so on. But I'm a heterosexual. And I'm gonna get married very soon. I find your behavior inappropriate. You seem to want to go out of your way to make me feel uncomfortable.
Nikki: Why would I do that?
Helen: [sighing and softening a little] I like you, Nikki. I've encouraged you to do a degree. I've put you on Enhanced. But everything I have done for you, I have done for professional reasons. Now, I can assure you that's the case.
Nikki: Fine. If you say so.
Helen: [gritting her teeth] If you ever do anything like that again ... Nikki. Even if I were attracted to you — which I'm not — there is no way we could have a relationship. I mean, for a start, I would be sacked. What I'm trying to say to you is find another ... another focus for your attention. Get back with Trisha. Anything. But don't waste your time on me
Nikki: [sharply] Well, I'm sorry to have caused you so much trouble, Miss.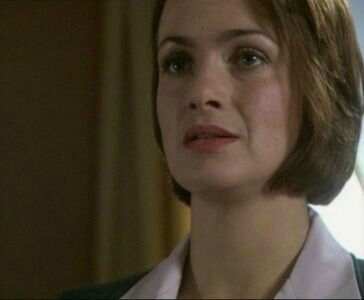 De retour chez elle, Helen est étendue sur le canapé, le regard lourd. Sean rentre et est surpris de la voir ainsi alors qu'ils devaient sortir pour dîner.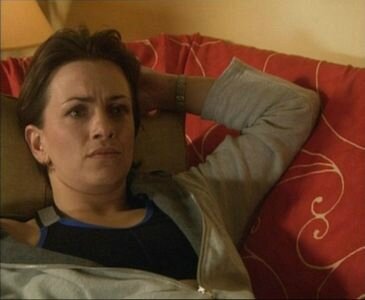 Helen: Do you mind if we leave it for another time? I really don't feel like eating.

Sean essaie d'insister mais but Helen ne bouge pas. Sean lui dit qu'elle ne semble pas elle-même.
Helen: I'm fine.
Sean: You're not regretting already, are you? About getting married?
Helen: Oh, don't be stupid.
(Sources, Captures et Dialogues : Afterellen.com - Gwens'world )
ANALYSE DE L'EPISODE
AUTEUR : JENNIFER T
Connections Shatter
This episode explores how difficult it is for prison officers to control the inmates in their charge. The confined world of the prison and the history and relationships which inevitably develop between officers and inmates lead to complex entanglements, both professional and emotional. The officers' authority and control, even with the support of the prison rules and regulations, can thus become more and more tenuous.

Helen wants Nikki moved up to Enhanced to reward Nikki for her good behavior over the previous two months. However, we know (even if Helen does not) that she is motivated by her emotional connection to Nikki. We saw evidence of this connection in their flirting in the previous episode (as well as in the opening sequence of this episode, but more on that later). When a prison officer has a personal interest in an inmate, promoting that inmate to Enhanced is the primary way, within the rules and structure of the prison, for them to demonstrate that interest, to offer the inmate something valuable while still maintaining a controlling upper hand. Fenner in particular always made sure his inmates (Rachel and Shell) had private cells on G3.
However, this entire incentive system, rewarding inmates for good behavior, is inherently infantilizing. This aspect of the system is emphasized when Nikki is moved up. Sylvia snidely comments that Dominic will win a gold star for supporting Helen's desire to move Nikki to Enhanced. Later Nikki jokes to Helen that she will be good and say her prayers. Both gold stars and children's prayers are techniques to control the behavior of children.
But unlike children, adults can only be controlled so far. Nikki and Shell both have sexual feelings for the people who have gotten them onto Enhanced, and there's nothing less childlike than sexual desire. When she falls in love with Helen, Nikki doesn't stay within the behavioral guidelines which have been set up for all the prisoners—just be a good little girl and you'll get your early release. Instead, she's living as an emotionally free adult, and Helen's emotional equal, free to confront Helen and try to make her aware of her feelings. This freedom is the antithesis of the prison system (as represented by the infantilizing incentives and rewards program), whose ultimate aim is to control.
Nikki's electrifying action in the potting shed dramatizes her independence, but even so, Helen doesn't see Nikki as an emotionally autonomous adult. Helen tries to continue treating Nikki as a child she can control by regarding Nikki's interest in her as a crush, nothing more. With comments like "Find another focus for your attention....Don't waste your time on me," she dismisses Nikki's very ability to fall in love with her. That dismissal suggests that Helen believes that Nikki hasn't fallen for her in the deepest sense of soul mate love, but that Nikki is simply infatuated with an authority figure who is kind to her, just as a child would be.
Helen conceptualizes Nikki's interest in her as an insignificant crush in order to diminish and contain Nikki's interest, and the power of her own response to that interest. Diminishing and containing their mutual interest is vital for Helen to preserve her authority and control as Wing Governor. However, preserving authority and control is easier said than done. Even in her effort to unconditionally reject Nikki, she subtly reveals the repressed depths of her feelings for Nikki. The lady doth protest too much when she insists, "even if I were attracted to you, which I'm not, there's no way we could have a relationship." Nikki's eyes lift up after that first phrase, in the most subtle but clear reaction, a sort of "Ah hah!"
Helen is not the only character in this episode who tries to establish boundaries and control. Helen struggles to protect herself against Nikki's romantic interest, to preserve her control and her ethical standards and moral conduct. Lorna tries but fails in her attempt to prevent Zandra and Shell's blackmailing efforts, thus relinquishing any authority she once had on G Wing. She (along with Fenner) finds herself aligned with the prisoners rather than her fellow officers. To protect her job, she has to protect Shell and Zandra from suspicion for using or dealing drugs. Similarly, Fenner must protect Shell for fear of incriminating himself for his sexual involvement with her. But neither Fenner nor Lorna manages to protect Shell from Dominic's suspicion. Their alignment with Shell means that her downfall leads to their own decline in power and authority over the wing.
This idea of alignment between otherwise oppositional characters informs some of the striking editing in this episode. The opening sequence flows between Helen and Nikki both getting ready in the morning, conflating the two characters whose intimacy has begun to develop. Dominic tells Nikki to get ready for her shower, and then rather than the camera cutting to a reaction shot of Nikki in her cell, the camera instead cuts to Helen in her home having just gotten out of the shower. Helen rubs her eyes in preparation for putting on makeup, cut to Nikki putting on eye makeup. And so on. The consecutive flow, a moment for each building on the other's moment, shows how Helen and Nikki are one, are connected.
Just a few minutes later, when Denny is leaving her literacy class, the camera follows her and Shell down the hallway, and then Nikki and Monica enter from a perpendicular hallway and the camera changes direction and follows them, all in one long take. A similar long take occurs slightly later in the episode, when Zandra chases after Lorna who is leaving the wing at the same moment as Monica returns from her visit with Spenser. In this case, the camera follows Zandra as she chases and then as Monica enters the camera turns 180 degrees and follows Monica up the stairs to G2 where Nikki is standing watching her. The long takes, the lack of cuts, emphasize the way all these characters flow into each other, the way the "goodies" (Nikki and Monica) are not separate from the "baddies" (Denny, Shell and Zandra), and the prisoners are not separate from the officers, physically, emotionally, and in the power dynamics at play.
This editing makes it clear that Helen, emotionally speaking, joins officers like Fenner and Lorna in having a deeply entwined connection with a prisoner. Helen doesn't yet fully realize the dangers of this kind of emotional entanglement. In fact she even takes action to further entwine her personal life with her management of the prison when she invites Sean to teach the gardening class. However, once Nikki learns of Helen's engagement and physically expresses her desire for Helen in the potting shed, Helen can no longer ignore the instability inherent in her emotional engagement with Nikki. Nikki's move shatters the flowing connection between the two, the emotional intimacy that could exist as long as Nikki remained in her proper place and Helen controlled the relationship. Helen returns to her office after Nikki confronts her, and we see another sequence that cuts back and forth between the two. However, they no longer flow into each other as they did in the opening sequence. Instead we see short edits in close-up, each character either dead center in the frame, or on opposing sides from the other. The feeling is static and choppy, full of conflict, the burgeoning unity broken. Helen is left with the choice that will plague her for the next three seasons: should she pursue the intimacy she can't deny, or preserve the authority she must maintain?
(Source de l'analyse :www.badgirlsannex.com )
Lire la suite : BADGIRLS Ep 1-08