BALADE NOCTURNE
Réalisateur : Laurence Moody
Scénariste : Ann McManus & Maureen Chadwick
L'HISTOIRE
Une rencontre inter prison doit être organisée pour qu'Yvonne retrouve son mari. Malheureusement, alors que tout est pourtant prêt, ce dernier refuse de venir. Yvonne est désespérée.
Sylvia organise une soirée pour ses trente ans de mariage où tous les gardiens sont conviés et où les détenues font le service. Di est très attirée par Dominic mais celui-ci ne le remarque pas alors qu'elle le drague ouvertement. De leur côté, les prisonnières mettent un comprimé d'ecstasy dans le verre de Sylvia. A la fin de soirée, cette dernière est complètement défoncée et se ridiculise devant tout le monde. En rentrant chez elle, Di dévoile qu'elle vit avec sa mère et qu'elle voue une véritable obsession à Dominic.
La libération de Crystal se rapproche. Malheureusement, un problème avec les documents administratifs retarde sa sortie. Lorsqu'elle est enfin dehors, elle se retrouve seule, sans personne. Avant de partir, elle vole le cadeau destiné à Sylvia, une belle pendule offerte par toute l'équipe. Seulement elle l'abandonne dans sa chambre, au foyer, après avoir retrouvé Josh, prévenu par Denny de l'endroit où il pourrait la trouver.
Nikki demande à l'infirmière de l'aider à sortir une nuit de la prison en échange d'une forte somme d'argent. Celle-ci accepte et la détenue parvient à sortir de Larkhall grâce à un subterfuge complexe. Là, elle rejoint Helen qui commence par lui fermer la porte au nez avant de la laisser entrer.
Helen réagit tout d'abord violement en expliquant à Nikki qu'elle risque sa place et finit par céder aux avances de la jeune femme. Elles font l'amour et Nikki se met à faire des projets insensés. Elle refuse de retourner à Larkhall. Cela d'autant plus qu'Helen tente de lui dissimuler une lettre de son avocate porteuse de mauvaises nouvelles. Nikki lui demande alors de l'aide pour partir à San Francisco. Seulement au lieu d'appeler un taxi, Helen compose le 999.
Shell considère Karen comme une excellente directrice. Malheureusement, Yvonne lui fait prendre conscience que celle-ci couche avec Fenner. Ne le supportant pas, Shell re-séduit Jim et commence à l'embrasser dans sa cellule avant de sortir un tesson de bouteille.
CAPTURES DE L'EPISODE
Helen arrive pour une nouvelle journée de travail et Fenner lui souhaite une bonne journée ...
Fenner : Hello, Helen.
Helen : Jim.
Fenner : I hear you've got a promotion board coming up.
Helen : [amused] Been playing golf again with Number One?
Fenner : I have to say, he's not too keen on your little plan to turn G wing into a lifers unit.
Helen : Rrreally.
Jim : You know it's not gonna happen.
Helen : [stopping and facing him] Oh, it will, Jim. If I want it to.
Di et Nikki passent alors pour se rendre à l'infirmerie :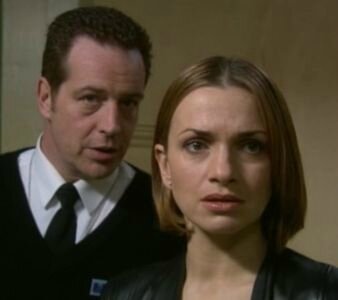 Fenner : [to Helen] Looks like it'll be a while before she gets it up for ya, love.
Nikki a décidé de se faire la malle le temps d'une nuit pour pouvoir parler tranquillement à Helen :
Helen : [gasping] Nikki! What the fff ...
Nikki : I've gotta talk to you.
Helen : No. [closing the door] No!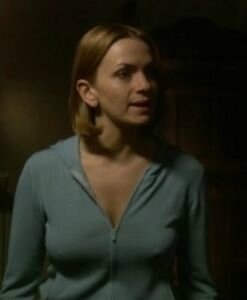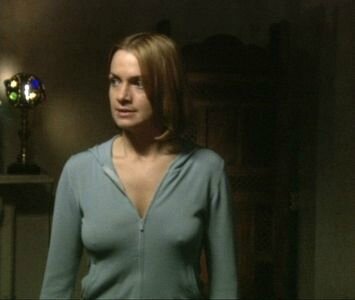 Après moult hésitation, Helen laisse enfin entrer Nikki :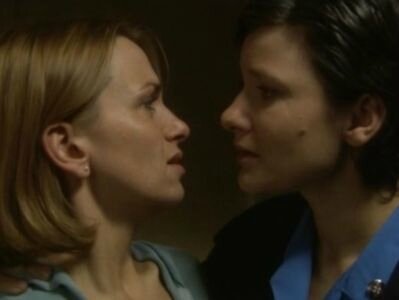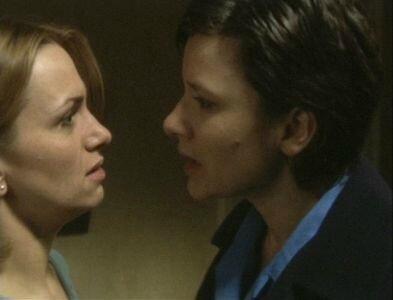 Helen : Nikki. I am an employee of the Home Office. Do you have any idea?!
Nikki : Don't worry. I'm not gonna get caught.
Helen : You are completely mad!
Nikki : [going to Helen, pulling her close] I love you. When I thought I'd pissed you off, I didn't know how I could live. And then I got this chance. I just wanna make the most of it. We've got a whole night together.
Helen : [pushing her away] No, Nikki. This is not the way.
Nikki : [pulling her back] Tell me you love me.
Dans la version originale, si vous écoutez et regardez attentivement, vous pouvez entendre Helen murmurer "Oh, Nicola" alors qu'elle se penche vers Nikki pour l'embrasser.
Helen : You're amazing.
Nikki : So are you.
Nikki : I've imagined this so many times. I can't believe I've really got you. Everything's possible now. A whole future!
Helen : Nikki. Sweetheart, you know that I've gotta get you back to Larkhall.
Nikki : What?!
Helen : Now, before anyone notices that you've gone.
Nikki : Don't be stupid. I can't go back there till the morning shift. Think about it.
Helen : [sighing] S---.
Nikki : What's that?
Helen : [sighing] It's a letter from your solicitor. I'm sorry, sweetheart. It's bad news.
Nikki : [sobbing]

Plus tard, sur le canapé :

Helen : It's not the end of the line. It's not! Claire said she's gonna go right ahead and apply to the Criminal Cases Review Commission. She's gonna come in and see you about it next week. You're not gonna give up!
Nikki : You kidding? No way.
Helen : [sighing with relief] Well, good, because neither am I. [sighing again] I love you, Nikki.
Nikki : Enough to give everything up for me?
Helen : Yeah. You know how much.
Nikki : I'm not going back to that prison, Helen. Not after this. This is my last chance now. If I go back, I just know I'm gonna be there till I'm bloody 50. You won't wait that long for me.
Helen : Nikki, it won't be that long. If the CCRC takes up your case...
Nikki : If. If, if. What if they don't? Do you really think I could handle that? 'Cause I'm telling you, after what we've been through this week, I just know I'd go totally mad. We've gotta run for it. Tonight.
Helen : Nikki. You are talking absolute crap!
Nikki : I can get a passport. Trish can help me.
Helen : We're not going on the run.
Nikki : [thinking] No. No, of course, that'd be stupid. I'll go on ahead. I can be out of the country before they even miss me. San Francisco. And then when the heat's off, you can come out and join me.
Helen : Nikki ...
Nikki : If you love me enough.
Helen : What kind of life would that be for us?
Nikki : Better than if we wait for bloody justice. It's true, Helen, you know it is.
Helen : [getting up] No. No, no, no it isn't! Don't even think about this. This is not an option.
Nikki : It's the only one we've got. Say you'll do it.
Helen : I can't. I can't.
Nikki : Yes, you can. You will. I've gotta go now.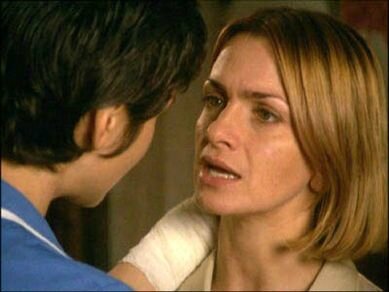 Nikki : Darling, please. Please trust me.
Helen : [flatly] OK. Go get ready.

Helen va-t-elle appeler un taxi ? Ou la police ?
(Sources Captures et Dialogues : Afterellen.com - Gwens'world )
La scène d'amour entre Helen et Nikki a été en partie coupée, la voici en vidéo :
ANALYSE DE L'EPISODE
Libre analyse de l'épisode en version originale de JENNIFER T.
Romantic Respectability
This episode, with its focus on a wide variety of romantic couples, depicts the complicated intersection between private romantic relationships and broader society. Relationships don't exist in a vacuum. They are influenced by friends, colleagues, social norms, and by anxieties about all of those things. Through these relationships the episode reinforces the social agenda of Bad Girls, normalizing and championing marginalized relationships and people.

Love, with its potential for betrayal, involves huge risks. Early on the episode introduces a theme of wounds and scarring. Shell goads Yvonne about Renee's knowledge of the scar on her husband Charlie's penis, and Nikki cuts open her love-wound, the gash on her hand. At the end of the episode, when Yvonne finally realizes she's lost Charlie, she tosses red wine at his photo, spilling his "blood" in the only way she can. This theme of love's wounds, both physical and emotional, cuts through the five primary romantic relationships in this episode: Sylvia and Bobby, Yvonne and Charlie, Karen and Fenner, Crystal and Josh, and Helen and Nikki. All five relationships swing between intimacy and estrangement, and sometimes back again. Love, it seems, can cut deep, and even if those cuts heal, a scar is always left behind.
The harmful potential for love means that for people to flourish in love, they need support—from their friends, community, society in general. However, as this episode establishes, certain relationships episode are sanctioned by society, and others are not. The most sanctioned relationship, of course, is Sylvia's and Bobby's—they're celebrating their 30th anniversary, a celebration of a long relationship stamped with society's approval. Meanwhile, Helen and Nikki (and to a lesser extent, Crystal and Josh) have the least sanctioned relationships. Rather than being celebrated, these relationships need to be hidden, for the sake of careers, moral standards, potential appeals, and in the case of Helen, the potential judgments of family and friends regarding her sexuality.
Not only do Nikki and Crystal's relationships need to be hidden, but they are inextricably intertwined with illegality. Both Crystal and Nikki engage in illegal behavior in anticipation of reconnecting with their loved ones. Crystal's theft of the clock, while not a direct action uniting her with Josh, is a symptom of her anxiety over her relationship and her release. She's nervous about when she's going to get out, whether Josh will be there waiting for her. Her criminal compulsion provides a way to reassure herself that she still has some control over herself and her surroundings, and illustrates how she and her relationship are deprived of society's approbation. Meanwhile, Nikki must actually escape prison to be with Helen, an act which represents the most extreme form of rule-breaking, of not obeying society's restrictions. Nikki's impulse to reject social restrictions seemingly knows no bounds, as evidenced by her idea to flee the country rather than return to Larkhall with no hope for her appeal. Helen points out "What kind of life will that be for us?" to which Nikki retorts "Better than if we wait for bloody justice." Nikki is willing to engage in the least socially-sanctioned relationship possible. Not only is it a lesbian relationship, not only is a relationship between a prisoner and an officer, now it's going to be a relationship of two people on the run, hiding their identities, living isolated lives. It's hard to imagine a relationship more dramatically contrasted to a 30th wedding anniversary celebration, but in Nikki's mind, it's her only option.
Of course, the socially approved relationships aren't as happy, peaceful and non-transgressive as they might seem at first. Sylvia and Bobby start out the evening with a nice intimacy, with Bobby standing up for Sylvia against Karen, but they end the evening in a tiff, a very public one, when Sylvia refuses to leave with Bobby. All of Bobby and Sylvia's accumulated gripes and grouses came to the surface released by the ecstasy tablet.[1] With this ecstasy tablet, the episode subtly supports the rejection of society's rules and standards. Just as Helen needed Nikki to escape prison in order to finally express her love physically and verbally, the transgression of the ecstasy is required for the truth and authenticity of Sylvia and Bobby's relationship to come out. It's amusing that the ironically-named ecstasy unleashes such hostility and rage between Sylvia and Bobby. But perhaps there is a form of emotional ecstasy in Sylvia finally being free to express her feelings, no matter how ugly or socially distasteful they may be. The irony is that, unlike for our secret, socially-condemned couples, Sylvia and Bobby must air their conflict in public, with an audience. A public relationship, with social validation, is always at risk of suffering social judgment.
This fear of social judgment can be broadly damaging. It pushes Karen to try (and fail) to keep her relationship with Fenner under wraps. She's sleeping with him but doesn't want anyone to know it. He thinks she's ashamed, and she probably is. But despite Karen's best efforts, like Sylvia and Bobby, Karen and Fenner have witnesses. As much as Karen refuses to dance with Fenner, she can't hide what's going on, either to Yvonne and Shell, or to Fenner himself. Her desire to continue hiding the relationship makes her seem untrustworthy, to both Fenner and Shell. They channel their resulting anger at Karen by falling into bed with each other, both with different fantasies of revenge.
Shell's anger at Karen's betrayal demonstrates the inextricability of platonic relationships and romantic relationships. Karen stood by Shell through Shell's accusations against Fenner and her revelations of sexual molestation. In Shell's mind, Karen has betrayed her by sleeping with Fenner, by no longer believing her allegations Fenner. And this betrayal has deprived her of much-needed support. Crystal, on the other hand, benefits from Denny's support. It's Denny's phone call to Josh telling him where Crystal is, and how much she misses him, which enables the two to reunite. A more abstract (and slightly disturbing) example is Di and Sylvia's dance at the end of the party. In this pseudo-romantic pose, Di is serving as a surrogate for Sylvia's husband, providing the support which Sylvia has rejected from Bobby.[2]
Unfortunately for Helen and Nikki, Helen suffers from an extreme lack of support, either of the social validation variety, or the supportive friend variety. Without any support, she has a low tolerance for an extra-societal, transgressive relationship. Confined within the walls of Larkhall, where she can dictate the terms, Helen can enjoy her passionate connection with Nikki. But Nikki's complete disregard for any boundaries, her lack of need for any social sanction, drives Helen in the opposite direction: towards extreme obedience of the rules—a 999 call to the police. Her action serves as a counterpoint to Fenner, who is desperate for public demonstration (and by extension, approval) of his relationship with Karen. When he doesn't get it, he commits a breach in the opposite direction to Helen's, by falling back into his most violating behavior.
This intertwining of romantic couples and outcomes seems to suggest that everyone might be better off if they could let go of their need for social approval of their relationships, and be able to reach out to their friends and community for support during the tough times. Unfortunately that's not possible at Larkhall, nor in society at large.
(Source de l'analyse : www.badgirlsannex.com)
Lire la suite : BadGirls 3-01