LA VENGEANCE

Réalisateur : Laurence Moody
Scénariste : Mark Wadlow
L'HISTOIRE
C'est la distribution du courrier ce matin à Larkhall. Une lettre pour Denny, de la part de sa mère. Une autre pour Nikki. Celle-ci ne réalise pas immédiatemment qu'elle provient d'Helen. Les enfants de Fenner le découvrent sur le sofa. Il essaie de convaincre Marylin, sa femme, que c'est lui la victime, mais celle-ci ne veut plus le croire. Pendant ce temps, Stubberfield informe Karen Betts de la démission d'Helen Stewart de son poste de Directrice de l'aile G. Il lui demande si elle serait d'accord de reprendre le poste vacant. Karen acceptera.
Un nouvel officier arrive à Larkhall pour remplacer Jim Fenner. Dominic accueille chaleureusement Di Barker. Stubberfield vient annoncer aux officiers le nom du successeur d'Helen Stewart, au grand désarroi d'Hollamby, qui n'hésitera pas à comparer Karen Betts à Superman : "Elle change plus rapidement de costume que Clark Kent !"
Yvonne apprend à Julie J. la mort de son ex beau-père, Eddie Dawson. Julie S. prend conscience que les enfants de Julie J. reviendront des USA pour les funérailles et que ce serait l'opportunité idéale pour elle de tout faire pour revoir ses enfants. Elles décident donc d'attirer la compassion de Dominic McAllister afin que celui-ci autorise Julie J. à se rendre aux funérailles. Mais pour cela, il faut que Julie J. arrive à pleurer ! Rendez-vous à la cuisine pour trouver le moyen de faire couler quelques larmes. Les oignons ne fonctionnant pas, Julie S. essaie avec du jus de citron. Bingo, Di, fraîchement arrivée et encore naïve, la prendra en sympathie et Dominic accordera à Julie J. le droit de se rendre aux funérailles.
Karen vient parler aux officiers en leur donnant les nouvelles directives. Elle sera ferme envers les détenues, mais ce ne sera pas une raison pour laisser passer les abus des officiers. Et si quelqu'un à quelque chose à lui dire, il faudra le lui dire en face ! Fenner, face aux inspecteurs enquêtant sur l'agression de Shell, tente de jouer au mari modèle avec le soutient très mou de sa femme. Il réussi à persuader sa femme d'écrire une lettre à Shell en lui disant que son mariage est terminé. Il espère, avec cette lettre, faire changer d'avis Shell afin qu'elle retire sa plainte. Apparemment, tout semble assez bien fonctionner. Shell perd tout intérêt au sein de Larkhall depuis qu'elle n'a plus son chien de garde. Même Denny se détourne d'elle préférant la compagnie d'Yvonne. Mais les charges ne sont pas abandonnées et Fenner doit absolument contacter Shell en personne. Mais comment y parvenir ? Une aide inattendue arrive en la personne d'Hollamby qui a décidé de rendre visite à Jim. Elle lui annonce qu'Helen a démissionné et que c'est Karen qui reprend le poste. Jim va persuader Hollamby de donner une lettre à Shell.
Julie J. s'est vu refusé le droit de se rendre aux funérailles. Et parce qu'elle a laissé éclater sa colère envers Hollamby, elle est consignée dans sa cellule. Voyant ceci, Yvonne va prendre pitié de Julie J. et va appeler son mari afin de trouver un moyen pour qu'elle revoit ses enfants. Yvonne en profite pour inclure Nikki et Julie S. dans son plan. Elle a absolument besoin de la signature de Julie J. sur un ordre de visite pour sa fille Lauren, qui prendra les enfants avec elle. Julie S. va glisser discrètement cet ordre par l'oeil de boeuf de la porte de la cellule et expliquer le plan à son amie.
Shell va croire ce qui est noté dans la lettre que lui a fait parvenir Fenner par l'intermédiaire d'Hollamby. Malgré les doutes et les mises en garde de Denny, Shell est persuadée que Jim est amoureux d'elle et s'empresse d'aller chez Stubberfield pour retirer sa plainte. Stubberfield n'est que trop content de la tournure que prennent les évènements. Mais Karen ne croit pas une seule seconde à la nouvelle version de Shell et désire que Jim soit muté dans une autre section. Stubberfield s'y opposera.
C'est le jour des visites. Denny attend la visite de sa mère, mais celle-ci ne viendra pas. Lauren Atkins arrive avec les enfants de Julie J. La rencontre est douloureuse pour tous, surtout lorsque le garçon de Julie J. lui demande si elle est une prostituée. Hollamby se rend compte que les enfants de Julie J. n'ont pas l'autorisation de venir et les renverra. Fenner est de retour à sa place d'Officier Principal. Il rend une petite visite à Nikki tout en lui conseillant de se tenir à carreau maintenant qu'Helen est partie. Il rend également une petite visite à Shell et feint de l'affection. Il demandera à Shell les lettres et une fois qu'il les a eu, il dira toute la vérité à Shell. Jamais il n'aurait laissé tomber sa femme pour elle ! Les Julies et Yvonne ont préparé leur vengeance envers Hollamby. Alors qu'elles sont entrain de nettoyer le sol, elles feront tomber Hollamby délibéremment et celle-ci perdra connaissance suite à sa chute.
CAPTURES DE L'EPISODE

Helen est absente de cet épisode. Seule une lettre d'elle pour Nikki est le signe de sa présence à l'extérieur.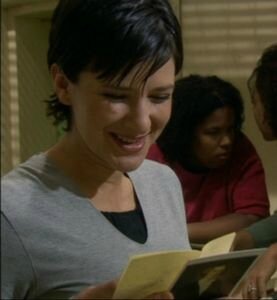 Au recto de la carte, une image de George Eliot, l'un des auteur favori de Nikki. Et au verso un simple "H" (pour Helen).
ANALYSE DE L'EPISODE

AUTEUR : JENNIFER T
Lies, Damn Lies - jennifer T.
Truth plays a central role in this episode. Most of the characters grapple with the truth, either to disregard it if it doesn't serve their needs, or to struggle to protect it from everyone's indifference. Most notably, truth (and the deliberate denial of it) serves as a tool in characters' struggles to protect their power and security. Those who care primarily about power don't care about what's true. They care about what will preserve their power and authority.
Throughout the investigation of Fenner's (mis)conduct, nearly every character seems preoccupied with whose word should be believed. Sylvia and Fenner, as well as the cop who interviews Fenner, all express frustration that Shell's word—a con!—is believed over a screw's. They seem to think a screw's word should have more power and authority than a con's, no matter who is telling the truth. In contrast, characters like Karen, Marilyn, Dominic and Helen worry about who is telling the truth. Dominic rants about bent screws, showing far more understanding of the systemic abuses he's up against than he did in his tentative support of Helen in S1. Marilyn makes a few bitter jokes about Fenner not caring about the truth, and Karen complains that Shell's recanting of her charge against Fenner shouldn't be believed, that Shell's previous accusations against Fenner were true. Even Denny gets in on the truth-telling, showing no patience for Shell's romantic delusions about Fenner, and refusing to participate in supporting her friend's fantasy.
More than any of the other truth-benders, Fenner disregards the truth because it fades next to his concern for his own self-image. He's strongly attached to his view of himself as the family man, the type whose wife irons his shirts, and who chats with his mother on the phone.[1] Fenner himself actually believes in his façade. It's almost as if the truth doesn't register. No matter what he's done at Larkhall, no matter how many prisoners he's exploited and abused, he still thinks of himself as a hard-working, solid husband and father who takes care of his wife and kids and supports his family. Now that his relationship with Shell is exposed, he has the opportunity abandon Marilyn and his kids. But he doesn't—he wants to stay in the marriage because it enables him to maintain his feeling of respectability. As he puts it, why would he ever dump his wife to be with a "slut" like Shell?
Marilyn and Shell have different reasons than Fenner for switching sides from truth-telling to lies. Marilyn and Shell have lost all their power due to the sexual abuse charge against Fenner and the subsequent investigation. Shell is no longer feared on the wing—she's lost all her authority over the other inmates. Marilyn is worried about being impoverished, left without a home or the ability to provide for her children. She's a stay-at-home mom, and wonders where the mortgage payment and food money will come from if she's divorced and her husband is unemployed or in prison. When she discovered her husband's affair with Shell, she probably expected to be able to divorce him and receive alimony and child support. But Fenner convinces her that should Shell's case be successful, he won't have a job at all, and without that, she has no way to support herself. Both Marilyn and Shell are therefore willing to bend the truth (aka lie) in order to protect themselves and their status. In a twist on Cyrano, Fenner dictates a letter for Marilyn to write to Shell to convince Shell that Fenner is in love with her, and that she should drop her charges against him. It works: Shell recants her accusation against Fenner.
These truth-bending characters show how truth is a luxury that very few can afford. Fenner doesn't believe he can get a job outside the prison service.[2] Marilyn can't support her family without her husband's income, so she can't let him go to prison. Shell can't tolerate her isolation and loneliness on the wing, now that she's lost her source of power. Helen and Karen, the characters who can afford the truth, demonstrate the extreme integrity required. While at first it seems like Karen has far more of a handle on things than Helen did (particularly when she insists that Stubberfield show her full support), once Shell recants, Karen's integrity leads her to bang her head into that very same brick wall that Helen did. In fact, her push for Stubberfield to continue the investigation against Fenner even after Shell recants echoes like déjà vu. It's a mirror of the argument between Helen and Stubberfield in the previous episode, reminding us that in Helen's case, integrity cost her her job. That's some very expensive integrity, but worth the price: Marilyn's feelings of imprisonment and powerlessness lead her to collude with Fenner, a collusion which leads to far worse things for many people down the road.[3]
Like Marilyn, the cons are similarly trapped, not able to afford a luxury like truth and integrity. The idealism required for integrity is near-impossible when injustice and abuse are the norm. Despite their general integrity, the Julies resort to eye-stinging lemon juice so Julie J can fake the tears necessary to get permission to go to the funeral of her ex-father-in-law so she can see her kids. While we laugh at their exertions, the circumstances are anything but humorous, where dishonesty is the only option available for a woman who wants to have a relationship with her children.[4]
The Julies' lies demonstrate how speaking the truth is not the only quality necessary for living a moral life. In fact, it might not be necessary at all. The characters we root for are the ones who fully embodying the positive qualities of love, integrity, sympathy etc. The ones we hate, like Sylvia, lack all of these qualities. When Sylvia wrenches Julie J's children from her arms, Sylvia is telling the truth and obeying the law. There is a restraining order keeping Julie J from her children. Lies had been told to get them into the prison. Sylvia realizes this, and puts wrong to right. But in doing so, she transforms herself into the villain of the episode, both in the eyes of the cons, and in the eyes of the audience. This is quite a feat, given Fenner's treatment of his wife and Shell. Sylvia's "ideals," mired as they are in a rigid conventionality, always put people's humanity second to her own convenience and sense of moral rectitude;
Helen, even in her absence, provides a powerful contrast to Sylvia's style of truth-telling. Helen is a ghost at the start of this episode, which opens with a shot of a red car driving up to the prison, so like Helen's red Peugot which opened many an episode in S1. In the subsequent scene, Dominic hands Nikki a letter from Helen. While we don't know what's in the letter, we can imagine from the look on Nikki's face that Helen is finally owning up to her feelings and expressing them, not just as a farewell (as she had in the previous episode), but as a beginning, the building of a connection, a relationship with Nikki. Helen's battle with Fenner and Stubberfield, as well as her resignation, demonstrate the near-impossibility of maintaining integrity within a corrupt system. Helen can't, and she decides to leave that system.
In a way, the cons draw the same conclusion when they decide to punish Sylvia for her cruel treatment of Julie J and her children. Living with integrity, telling the truth, all of this is impossible in the abusive circumstances. The cons all bond together, the Julies, Yvonne, Zandra, Nikki, Crystal, to punish Sylvia with the firmest hand possible. The episode ends with Sylvia unconscious, silenced and impotent, a powerful statement by the cons, standing up against abuse. This premeditated attack on Sylvia is disturbing to watch. It's chilling to see this kind of behavior and view it as a natural response for abused, powerless people. Other than Yvonne, none of the women involved were the type to push someone down the stairs. But life in Larkhall doesn't just require a squirt of lemon juice and fake tears. Abusive, dehumanizing treatment, like what Sylvia doles out, engenders criminal behavior.
The violent attack which ends the episode emphasizes the contrast between the seemingly respectable, law-abiding, honest screws; and the conniving, deceiving, criminal inmates. In the same episode where we watch in horror as Fenner builds lies upon lies to protect his family man façade, we root for a prostitute to be reunited with her children, restraining order be damned. It's unclear who is to be trusted when anyone might lie or take revenge in order to protect their own interests. And those who won't, like Helen, find themselves chewed up and expunged from the system.
(Source : www.badgirlsannex.com )
Lire la suite : BadGirls 2-04