DESCENTE AUX ENFERS

Réalisateur : Mike Adams
Scénariste : Jayne Hollison

L'HISTOIRE
Après plusieurs électrochocs, le coeur de Jim finit par repartir. Le gardien est alors transféré à l'hôpital et son état s'améliore rapidement. Shell reste au mitard et est tabassée par les gardiens. Alors que Sylvia continue à se plaindre du fonctionnement de Larkhall, Helen lui déclare que Shell est accusée de meurtre, que la police diligente une enquête et qu'elle en dirige une autre au niveau interne.
Marilyn, la femme de Jim? a été appelée en urgence par Karen. Elle soutient son mari et semble vouloir reprendre sa place à ses côtés. Elle souhaite donner une seconde chance à leur couple. Jim lui propose de prendre son temps et en parallèle joue un double jeu avec Karen. Il déclare en effet à cette dernière qu'il est libre et ne compte pas retourner auprès de son épouse.
La mutation de Shell dans un autre établissement ayant peu de chance d'aboutir, Sylvia se débrouille pour la faire transférer dans la section psychiatrique. Là, elle retrouve la folle qui avait voulu tuer Karen, Tessa Spawl. Shell s'écrase et tente de devenir amie avec sa colocataire mais Tessa est réellement folle et en pince pour Shell. Sylvia s'arrange même pour qu'une détenue en manque n'ayant pas eu ses traitements l'agresse violemment.
Nikki est extrêmement déprimée par sa rupture avec Helen. Elle ne voit aucune raison de continuer à se battre et Barbara essaie de lui remonter le moral sans y parvenir. Helen explique alors à la jeune femme que son avocate continue à travailler sur son dossier et qu'elle compte bien la faire sortir de là. Nikki n'en revient pas et l'ancienne directrice lui répond qu'elle l'aime toujours et qu'elle veut que leur relation continue quand elle sera dehors.
Helen interroge les détenues et les gardiens afin de découvrir les raisons et le déroulement de l'incident. Shell ment, Yvonne confie qu'elle a dit que Fenner couchait avec Karen et Michèle finit par dire la vérité et avoue qu'elle avait prémédité son geste. Après avoir entendu ces différents témoignages, Helen demande à Karen si elle couche avec Jim.
Julie reçoit une lettre de son fils. Il souhaite sa présence à un spectacle de fin d'année. Alors qu'elle déprime avec l'autre Julie à l'idée de ne pas pouvoir sortir, Barbara les convainct de postuler pour le nouveau programme visant à purger sa peine à domicile.
Crystal emménage chez Josh. Il la demande en mariage et lui promet de tout faire pour trouver un emploi. Disposant de peu d'argent, Crystal récupère l'horloge qu'elle avait volée à Larkhall et la revend.
Shell est finalement de retour dans l'aile G. Devant ce qu'elle considère comme une insulte, Sylvia déclare que c'est la grève !

CAPTURES DE L'EPISODE

Dans le bureau des officiers, Simon, Helen et Karen donnent des nouvelles de Jim. Sylvia, quant à elle, est plus intéressée par ce qui va advenir de Shell :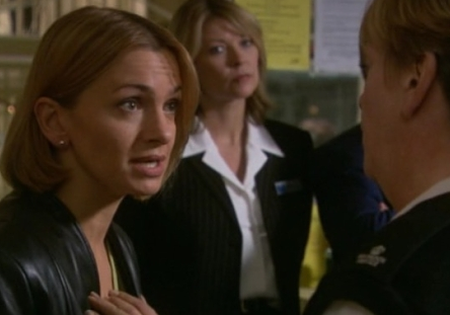 Helen : Any decision to move her is up to the lifers unit. Look, I know that feelings are running high, Sylvia. Now, I'm as upset as you are about Jim. But as head of the lifers unit...
Hollamby : Come off it. You've never given that man any support.
Stubberfield : There'll be an internal inquiry.
Hollamby : And who's going to head that?
Helen : [standing up, as the music swells] I am.

Au bloc, Helen tente de comprendre Shell :

Helen : You know, Shell, I wanna make sure that you're treated fairly in this inquiry.
Shell : Thanks, Miss.
Helen : Just as I wanna make sure Mr. Fenner is. So when you wanna start telling me the truth, instead of a load of bulls---, we'll talk again.
Dans la cellule de Nikki et Barbara :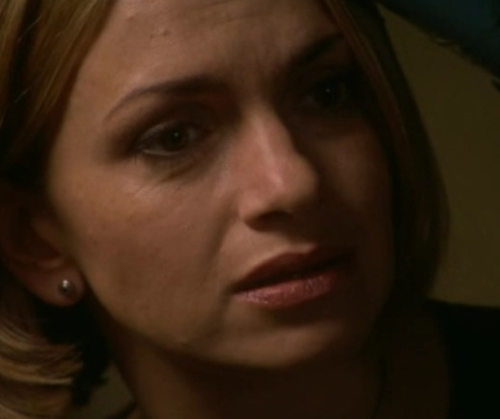 Helen : [rousing Nikki, forcing her to face her] Nikki, you've gotta keep trying. Come on. For us.
Nikki : Don't. There isn't any us.
Helen : There is if you get out of here. It's the future that we've gotta think about.
Nikki : You don't get it, do you? You think you do, but you don't. The only future you have in here is your release date. That's what you fix your eyes on. That's what gets you through. And I don't have one.
Helen : Listen, you didn't have one before and you got through it.
Nikki : I had you before. Do you know, I could get through a whole week just waiting for one look from you. When I got that, that'd get me through another week. See, you're making me remember. I just wanna forget.
Helen : Well, I'm not gonna let you forget. Because there is still a future.
Nikki : A future that could be 12, 15 years away.
Helen : Look, your solicitor isn't gonna make it in this week.
Nikki : You warned her off, didn't you?
Helen : [gently] Oh, shut up and listen.
Helen : Look, Claire's promised me: She's gonna get in as soon as she can. She wants to go through your case for the review.
Nikki : I thought ...
Helen : What? You thought I was just gonna leave you in here to rot? Look, we're gonna do everything to get you out of here. Whether you like it or not.

Dans le bureau d'Helen :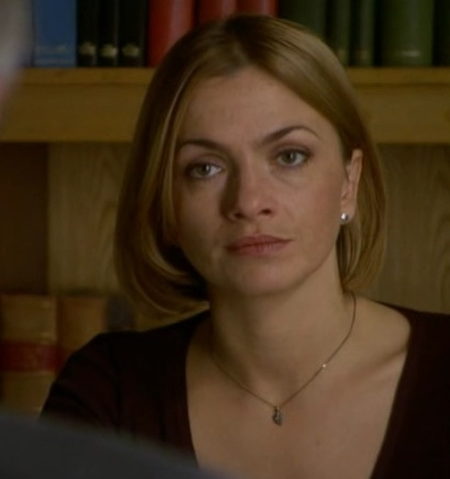 Stubberfield : Look, I don't want any trouble amongst the staff, and I definitely don't want any of this leaking out to the press. I trust I've got your cooperation on that.
Helen : Not for a coverup, you don't.
(Sources Captures et Dialogues : Afterellen.com)
Lire la suite : BadGirls 3-03