Chiens et chats
Réalisateur : Di Patrick
Scénariste : Phil Ford
L'HISTOIRE
Gina qui a fait une fausse couche est en arrêt maladie. Marc, son petit ami, la remplace à l'aile G.
Shaz a beaucoup moins de problèmes avec Al depuis qu'elle pratique les arts martiaux. Une belle démonstration lui assure le respect. Elle compte d'ailleurs continuer dans cette voie.
Tina, la soeur de Maxi, se rapproche de Virginia. Maxi ne le supporte pas et harcèle sa soeur avant d'agresser Virginia. Elle laisse tomber un seau plein de saletés du premier étage sur elle. Juste à cet instant, Virginia se lève subitement pour éviter le colis. Elle fait passer cela pour un miracle mais les autres détenues ont conscience qu'elle leur a toujours menti.
Crystal se rend à son audience au moment où Josh reçoit une cassette de Denny la disculpant. Elle va être remise en liberté lorsqu'elle est appelée par Karen qui lui montre l'horloge de Sylvia qu'elle avait volée. Crystal reconnaît son geste et elle est réincarcérée.
Nikki apprend la liaison entre Helen et Thomas de la bouche de Fenner. D'abord jalouse, elle reconnaît ses tords et lui souhaite tout le bonheur du monde. Nikki décide de se concentrer sur sa prochaine libération.
Barbara reçoit une lettre du ministère public qui ne retient pas les charges de meurtre pesant contre elle.
Sur les indications d'Yvonne, Helen planque toutes les nuits devant les bordels de Virginia. Un soir, elle aperçoit Fenner récupérer l'argent et le menace ouvertement. Elle lui fait croire qu'un ami l'a filmé et a pris des photos. Elle lui demande sa démission en échange des négatifs. Refusant de se laisser faire, Jim se met en quête du journal intime de Barbara qui, il en est persuadé, relate l'histoire d'amour entre Nikki et Helen. Grâce à l'aide de Di, il le trouve et fait à son tour chanter Helen. En effet, il découvre que Nikki est sortie de prison durant un court instant.
Thomas, de son côté, est de plus en plus amoureux d'Helen et finit par lui faire une très belle déclaration.
CAPTURES DE L'EPISODE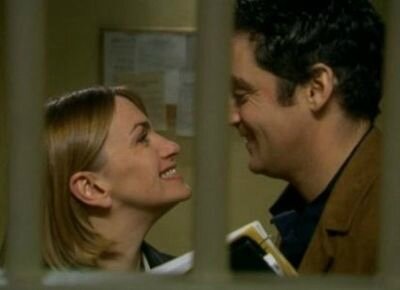 Thomas: Helen. I thought you were gonna take the morning off.
Helen: I couldn't sleep. I'll be fine once I get some caffeine.
Thomas: I'll bring you up a dose of vitamins.

Helen et Thomas discutent de la façon dont surprendre Fenner devant les bordels de Virginia :
Thomas: Do you ever wonder if Yvonne Atkins might just be jerking your chain with all this?
Helen: [sharply] She's not.
Helen: [still in governor mode] I'm gonna nail him, Tom. Even if I have to sit outside one of those dumps every night for a year. For two years. By the law of averages, he's gotta show up sometime.
Thomas: The law of averages says we'll probably all get wiped out by a meteorite. But I don't see anyone running for cover.
Helen: [turning away, moping] You don't have to go with me.
Thomas: [leaning close] Helen. I wanna go everywhere wth you. And I wanna help you lynch Jim bloody Fenner. I just ... I don't know if this is the way.
Thomas: OK, only asking ... for my own selfish reasons, thinking, you know, it might be nice to spend the odd evening in, instead of parked in a car outside a massage parlor. But call me conventional.
Dans la cellule d'Yvonne :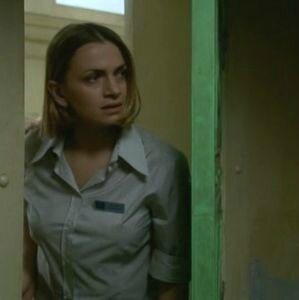 Yvonne: You OK? You look knackered, Miss.
Helen: I've been spending far too many nights outside those addresses you gave me.
Yvonne: And?
Helen: And sod all.
Yvonne: Well, don't give up now. Fenner's in with her, I promise you.
Helen: Promises aren't enough, Yvonne.
Yvonne affirme que Fenner aide bien Virginia à faire tourner ses bordels mais Helen a besoin d'informations plus tangibles comme une heure ou un lieu précis.
Helen: Can't you get O'Kane to open up to ya?
Yvonne: What's she gonna tell me?
Helen: Then scare something out of her. Quick.
Nikki a passé son examen universitaire et croise Fenner. Celui-ci lui dit qu'il est un grand supporter de l'éducation en particulier pour les détenues à longue peine comme Wade. Il en profite pour lui annoncer la relation d'Helen avec Thomas :
Fenner: No, I mean it. The more you can learn, the better. For instance, did you know that your girlfriend, Miss Stewart, is shagging the new SMO?
Shaz fait quelques mouvements pour montrer à ces co-détenues de longues peines ce qu'elle est capable de faire. Les filles l'acclament sauf Nikki qui a l'air de se morfondre :
Helen: Very impressive, Shaz. But what I really meant was developing skills that'll help you find future employment.
Shaz: That's what it is, Miss. I'm gonna be a world champion kickboxer.
Nikki: Yeah. Shaz Van Damme.
Shaz: Yeah, well I'll get work in it somehow. And I'm going for it.
Helen: Then I wish you lotsa luck, Shaz.
Nikki: [to Helen, bitterly] What I wish is that the bloody Home Office would make up its mind what prison's for. 'Cause if they really want us to improve ourselves, they'd stop paying us less for doing education than all those s----y prison jobs, wouldn't they?
Helen: [calmly, to the group] Is there anyone thinks I don't agree?
A la fin de la réunion, Helen a une conversation avec Nikki :
Helen: How did your exam go? Not good?
Nikki: Went great.
Helen: So why're you being so nippy?
Nikki: [brightly] Is it true you're shagging the new SMO?
Le visage affligé d'Helen semble confirmer la nouvelle : Helen sort avec Thomas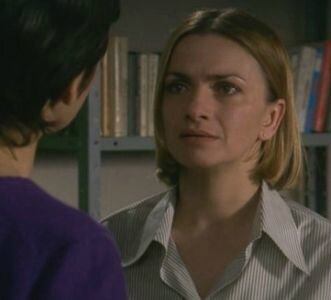 Nikki: Just thought you might tell me yourself, instead of letting Fenner do it for you.
Nikki tourne les talons et s'en va sans un mot de plus.
Plus tard, Helen rend visite à Nikki dans sa cellule (en demandant sa permission comme elle l'a fait avec Yvonne au début de l'épisode):
Nikki: I'm sorry about what I said to you. Whoever you're with is none of my business.
Helen: No, I'm sorry that you found out from Fenner. I owe you more than that.
Nikki: Yeah, well. Trust him not to miss a good kick, eh?
Helen: I don't want him scoring anything over you, Nikki. Ever.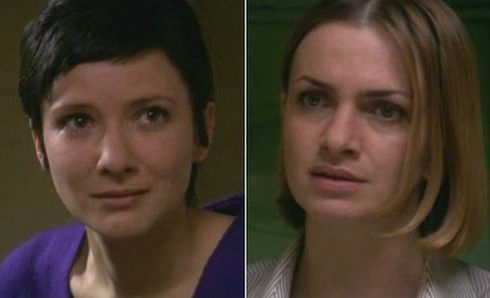 Nikki: [cheerfully] So, you managed to find the one nice guy in this dump, eh? The doctor?
Helen: [half-heartedly] Yeah. He is.
Nikki: Is it serious?
Helen: Early days. Maybe.
Nikki: Well, don't feel bad for me. I've got a new life waiting for me once this appeal's out of the way.
Helen: Hey, now you're talkin'.
Nikki: So ... good luck, I guess.
Helen: Yeah. Thanks.
Puis Helen s'en va et Nikki s'installe sur sa couchette, l'air de ne pas savoir quoi faire avec tout ça.
Lors d'une de ses planques nocturnes devant un bordel appartenant à Virginia, Helen surprend Fenner récolter les profits d'un soir :
Fenner: Helen. What're you doing here?
Helen: I heard you got a new interest.
Fenner: I'm sorry, Helen, you've lost me.
Helen: This place is owned by Virginia O'Kane. You're running things while she's inside.
Fenner: You're in fantasy land, love. Here, hop in. I'll give you a lift home. It's not safe out here on your own.
Helen: Oh, I can look after meself. It's you that should be s---tin' it.
Fenner se met en colère et la pousse contre un mur :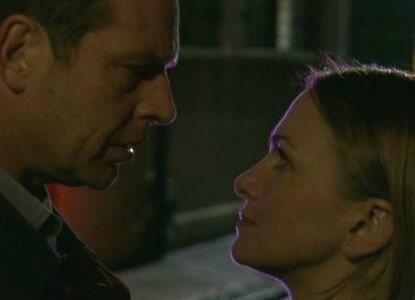 Fenner: Big bloody deal. I'm a man. I've got needs. Even you understand that, don't you?
Helen: That's right. You get as close as you can. I've got a friend across the road; he's got a camera. He's already caught you coming out of O'Kane's, and now he's getting all this. [chuckling] You're so predictable, Jim.

Bluff ou non de la part d'Helen, peu importe, Fenner recule et dit à Helen qu'elle ne peut rien prouver. Celle-ci le menace de dire Karen qu'il fréquente des prostituées jusqu'à ce qu'il batte en retraite.
Helen: Think about it. But don't take too long. I'm getting the photos developed tomorrow morning.

Le lendemain matin, Fenner fille voir Virginia mais quelqu'un est déjà là :
Helen: Mr. Fenner. What a surprise. Have you come to gawp at the miracle?
Fenner reste figé. Helen finit par lui demander s'il veut discuter des recettes de la nuit dernière avec Virginia mais celui-ci tourne les talons et s'en va. Virginia nie faire des affaires avec lui mais paraît bien nerveuse quand Helen quitte la cellule pour courir après Fenner.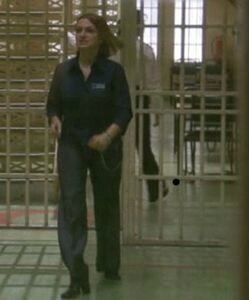 Fenner: Listen. I love Karen. Whatever you think I was up to last night, I don't want her hurt.
Helen: Then you know what to do.
Fenner: And I want those negatives. 'Cause I'm warning you: If you go back on your word —
Helen: I don't do that.
Fianllement, Fenner capitule et annonce à Helen qu'elle aura sa démission avant la fin de la journée.
Yvonne descend les escaliers de l'aile G et aperçoit Helen qui de loin, lui fait un signe pour lui dire que l'enquête sur Fenner a porté ses fruits :
Thomas félicite Helen mais Helen ne veut pas s'emballer avant d'avoir la démission de Fenner en mains :
Thomas: So maybe you and me can get back to normal, yeah?
Helen: What do you mean, normal?
Thomas: Well, you know.
Helen: Are you trying to say I'm abnormal, wanting to get Fenner by the balls?
Thomas: I've got a girlfriend more interested in massage parlors than spending the night with me. It's not what my mum would call normal.
Pour lui prouver qu'il a tord (ou pour le faire taire ?), Helen l'embrasse en lui tenant le visage de la façon dont elle l'a déjà fait avec Nikki :

Helen: And what would your mum call that?
Thomas: You know, you really are an amazing woman.
Helen: [amused] Yeah.
Thomas: Seriously. Um ... I don't do this sort of thing normally — not when I'm sober, anyway, but I s'pose I've gotta tell you sometime. I am totally in love with you.
Fenner se présente au bureau d'Helen mais sans lettre de démission. Il tient le journal intima de Barbara Hunt entre les mains:
Fenner: Ah. There's a problem. There is no resignation.
Helen: We had a deal.
Fenner: We did. But now I [bring the diary out from behind his back] have this. Barbara Hunt's diary.
Helen: [looking nervous] So?
Fenner: Quite a thriller. Especially the part where Nikki Wade breaks out of prison on the night of Sylvia's party and, ah ... [pausing for dramatic effect] spends the night in bed with you.
Helen: That's nonsense.
Fenner: Why would Hunt lie?
Helen: I don't know.
Fenner: Then there's this bus ticket, found in Wade's locker.
Helen: [mocking] A bus ticket?
Fenner: Dated the same night Dockley attacked me.
Helen: And who planted that there, I wonder?
Fenner: Well, if you've really no skeletons in your closet, you won't mind if I take a look.
Fenner se dirige droit vers l'armoire et Helen tente de lui bloquer le chemin :
Fenner: I thought you had nothing to hide. Except for that nurse's coat you've got bundled up in there.
Helen: [trying to catch her breath]
Fenner: I think we both know who's in deep s--- now, love. [holding up a pen] Do you wanna start writing? Or should I take this to Area?
(Sources Captures et Dialogues : Afterellen.com)
Lire la suite : BadGirls 3-16