Les droits d'auteur des images, photos et vidéos appartiennent à Simone Lahbib et à la famille Brown. Les images, photos et vidéos ne doivent pas être utilisées ou dupliquées sans permission.

Eilidh Brown, nièce de Simone Lahbib, est décédée le 25 mars 2010 des suites d'un cancer. Elle allait fêter ses 16 ans. Cette page lui est dédiée.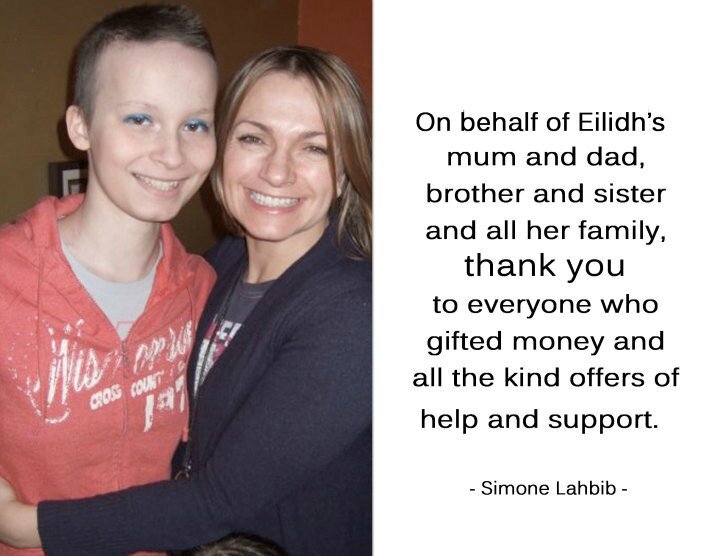 MESSAGES DE SIMONE SUITE AU DECES D'EILIDH
" Ma magnifique nièce Eilidh vient de perdre aujourd'hui son long combat d'un an contre le cancer, et vient de nous quitter sereinement ce matin, Jeudi 25 mars 2010 à 5h30, 9 jours avant son 16ème anniversaire. Ses derniers mots ont été: " Je vous aime!"; son départ fut beau, avec un sourire sur son visage.
Pour ceux qui ne la connaissaient pas, elle était la plus extraordinaire, adorable, mignonne, aimante et brave jeune fille qui pensait toujours aux autres avant de penser à elle. Elle a récemment dit à sa maman: "Je ne veux pas partir Maman, mais je le dois. Mais je te le promets, peu importe la difficulté, je t'enverrai un message du paradis pour que tu saches que je suis bien, comme ça tu n'auras plus le coeur brisé".
Aujourd'hui nous avons l'impression que notre coeur ne cessera jamais de pleurer!
Eilidh chérie, tu manques tellement à toute ta famille, tous tes amis. Tellement. Nous ne cesserons jamais de t'aimer et nous ne t'oublierons jamais!
Repose en paix mon ange .
En dernier lieu, de la part des parents d'Eilidh, de son frère et de sa soeur, et de toute sa famille, merci à tous ceux qui ont versé de l'argent et tous les témoignages d'aide et de soutien.
Si quelqu'un souhaite récupérer son argent, nous comprenons complètement. Vous pouvez envoyer vos coordonnées à info@eilidhbrown.co.uk, nous vous enverrons un chèque."
Simone Lahbib.
(Traduction Elise P)
Ci-dessous, le message original de Simone en anglais :
"Eilidh was 14 when she collapsed on a school trip last year, February 2009. A scan showed she had a tumour the size of a melon which was promptly removed, along with Eilidhs left ovary. Tests showed the tumour was malignant and that she also has a form of Turners Syndrome, a chromosomal disorder which occurs in 1 out of 2000 girls and is likely to have made Eilidh predisposed to Germ Cell Cancer in her ovaries.
To date, Eilidh has had several major surgeries, to remove her other/right ovary, her womb, part of her bowel, as well as various tumours. This so called very treatable cancer has spread like wildfire, even during chemotherapy! The doctors at the wonderful Yorkhill Childrens Hospital in Glasgow have been at a loss. In November 2009 an MRI scan showed the cancer to be in Eilidhs liver. The doctors started her on a new combination of 3 chemos which, to everyones relief, Eilidh responded well to. This gave Eilidh and her family renewed hope over Christmas and the New Year. She continued to improve until mid Febuary 2010 when the tell-tale signs came back and it was confirmed that there is a new large tumor in Eilidhs bowels as well as the base of her spine, in the bone. The doctors plan to start Eilidh on Radiotherapy this week (March 2010) The battle continues and everyone continues to hold tight to hope.
Needless to say the events of this past year have had a devastating impact on Eilidh and her family. As you can imagine it is a constant strain dealing with the extreme emotions caused by cancer as well as the disruption to their day to day family life, traveling back and forth to York Hill Children's hospital, not to mention the financial strain due to loss of earnings as both parents are needed to care for Eilidh and their other two children, Hannah and Lewis.
They have all had to find strength they didn't know they had. When asked how they are coping, they reply, "We're just taking each day as it comes and getting through it as best we can." It comes nowhere close to describing the reality of their ordeal. But Eilidh's bravery and wisdom throughout, has been nothing short of inspirational! When asked if she felt angry that she had cancer, she said, "Of course not. I'm just so grateful so many people are trying to help me'.
Thank you to everyone who has taken the time to read Eilidhs story and a big thank you to everyone who is making a gift. And finally, thank you to all the people around the world who are praying for Eilidh and her family."
Simone Lahbib
LE SOUTIEN DES FANS
Pour donner toutes les chances à Eilidh, Simone Lahbib avait lancé un appel à la générosité de ses fans (l'Appel à Eilidh Brown) en février 2010. Le principe : organiser une tombola dont les prix à remporter étaient des objets de collection pour les fans de Simone et ainsi récolter un peu d'argent pour payer les soins dont Eilidh avait besoin.
A la mort d'Eilidh, certains gagnants de la tombola ont décidé spontanément de restituer leur gain. Ils ont ensuite été mis aux enchères sur Ebay afin de récolter de l'argent pour le Fonds en Mémoire d'Eilidh Brown nouvellement créer par la famille d'Eilidh. Tout l'argent récolté sera utilisé pour aider des enfants qui ont le cancer, comme Eilidh, en reversant les fonds à des oeuvres existant déjà ou, si la générosité des gens est suffisamment importante, en s'enregistrant comme oeuvre caritative et continuer à récolter des fonds.

Site en mémoire d'Eilidh Brown
ACTIONS DE LA FONDATION
- Le 15 janvier 2011 a été organisé un concert pour Eilidh à l'Université de Stirling. La famille d'Eilidh continue à amasser des fonds en sa mémoire pour construire une maison des familles à Stirling, en Écosse, pour recevoir les familles qui ont un enfant atteint de cancer ou qui ont vécu un deuil similaire. Le fonds commémoratif se penche actuellement sur l'obtention du statut d'organisme afin qu'il puisse continuer à aider les autres.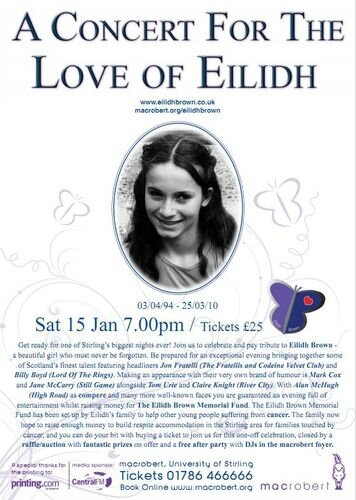 Sur ce thème lire l'article consacré : Back brave Eilidh's lasting legacy - 20 octobre 2010 - Stirling Observer (Kaiya Marjoribanks)
22 Février 2011 : Gordon et Nicole Brown et Simone Lahbib participe à l'émission The Hour (STVPeople) pour parler d'Eilidh et de la Fondation :
- 25 Février 2011 : HeadShaving Fundraiser organisé par l'Université de Stirling :
Ci-dessous, le message en anglais de l'Association ayant organisé l'évenement :
"The day of our head shave has now been and gone but we are very pleased to report that it was very much a success. Even before the event had actually began people had already turned up at our stand in the main area of the university eagerly awaiting the start. The crowd that turned up were good sports, cheering on those who got their hair shaved off. The crowd for the most part stuck around for the duration of the event and we definitely caught the attention of passers by. Many pictures were taken by passers by, who were even lovely enough to donate what money they could.
In total 6 people volunteered to shave off their locks, including Jen Andrews who initially approached us with the idea of doing this head shave in the first place. In fact two of our volunteers ended up losing their eyebrows too! These people had previously volunteered and so had been collecting sponsors prior to the event which allowed for us to reach the amazing total of £1200. Of that total, we made £100 on the day itself, as well as this, we have been taking donations from our society's weekly pub quiz to contribute to the Eilidh Brown Memorial Fund too. We plan to continue raising money and are hoping to achieve a final total of between £1400 to £1500.
We were also unbelievably blessed to have Gordon and Simone at the event. It was such an honour for us to do this and for us to hear their testimony first hand really reminded us all exactly why we were there doing what we were doing. They opened the event for us and shared their story for the crowd there. We would like to thank them profusely for their contribution on the day, they even took turns at shaving Jen's hair.
We would like to thank all of our head shave volunteers and our hairdresser for the day, Zac Teasedale, as well as Gordon, Simone, Jen and all those at the Eilidh Brown Memorial Fund for allowing us to have even this small part in contributing to the cause. While our event was a success and it was a lot of fun, there is still a long way to go and we only hope that this contribution will help you get that little bit closer to your total. We can only encourage people to keep donating and doing everything they can for such an important cause." (Emma McLean, RAG Vice President on behalf of Cannon Dickson, RAG President - Université de Stirling)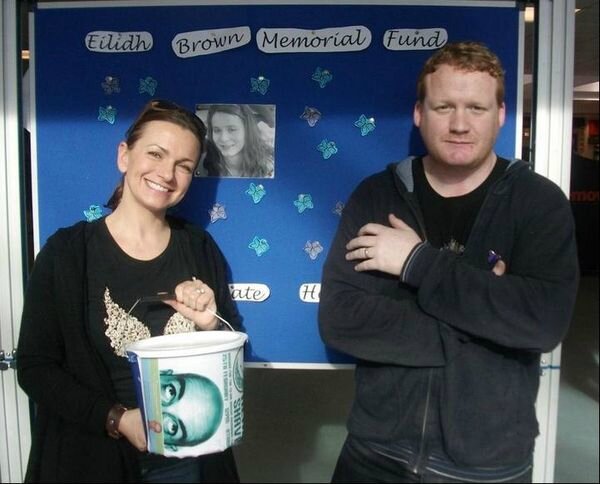 Simone Lahbib et le papa d'Eilidh, Gordon Brown
(Source Photo : FaceBook EilidhBrown.AppealandMemorialFund)
Ci-dessous, une déclaration de Simone après cette journée où elle était présente :
"It was Jen's mums birthday on the day of the fundraising headshave. I'm not sure who was more brave........Jen for letting us shave all her hair off or her mum for coming to watch. I'm just so glad we were able to be there and show our support to all the brave students who sacrificed their locks to raise funds for the Eilidh Brown Memorial Fund at Stirling University on 25 February 2011.
We have a long way to go to raise the £150,000 approximately needed to build the holiday cottage for families who have a child with cancer or lost children to cancer. We're just so grateful to everyone who took part, who helped organise and who put money in the buckets, Every penny helps! Thank you."

- Mars 2011 : une tombola a été organisée pour récolter des fonds pour la fondation.
Voici un message de Simone retranscrit sur la page Facebook qui lui est consacrée (posté le 4 avril 2011) suite à la tombola :
"We made £1184 from the raffle. Which is fantastic!
Thank you so much to everyone who participated. I know things are tight for most people at the moment, so every single penny raised is hugely appreciated!
...
Every contribution no matter how small takes us a step closer towards realising our dream of building a Respite Home for families who have children or dependents (up to the age of 21) with cancer.
I know how precious my niece Eilidh's time with her family was at Calum's Cabin, our inspiration in all this. I have no doubt our holiday home will bring the same desperately needed relief and joy hopefully to all the families who use it.
Cancer is bound to touch all our lives at some point, whether it's through a member of our family, a friend, a neighbour, someone we work with or in our family's case, one of our children.
If you have made a gift through the Eilidh Brown Memorial Fund then you have become part of this with us. I hope you feel proud of yourself.
You really have done something wonderful and I'd like to thank you from the bottom of my heart!"
- Message de Simone posté le 6 février 2012 en remerciement du soutien apporté aux fans inscrits sur la page officelle Facebook :
"I just want to say a massive thank you to everyone who has helped us raise such an phenominal amount of money in such a relatively short time, considering the financial climate. It means we're financially almost three quarters of the way there to achieving our goal of building the respite holiday home. And this year is already shaping up to be another exciting one in terms of funraisers. So many people have done so much! I can't begin to tell you the support and love felt by the whole family by every gesture of kindness, big and small. It has helped carry the family through some dark times. Personally I'm so proud of all of you. Thank you from the bottom of my heart." Simone x

- Vendredi 15 juin 2012 : Concert "For the love of Eilidh 2012" prévu au MacRobert Arts Centre (Université de Stirling).
Simone, visible à l'arrière plan entre la jeune fille en noire et la jeune fille en rouge. Sur le même rang, sur la gauche, Nicole Lahbib Brown.
(Source Photo : Eilidh Brown Appeal Facebook)
D'autres photos concernant les évènements liés à la mémoire d'Eilidh et aux actions de la fondation sont visibles dans la galerie consacrée.
Suite de la biographie : THE CALEDONIAN KITCHEN BOOK