UN BEAU MARIAGE

Réalisateur : Laurence Moody / Scénariste : Phil Ford
L'HISTOIRE
Fenner entretient toujours sa liaison avec Rachel. Folle de jalousie, Shell tente plus que jamais d'intimider cette dernière. Zandra, qui a trouvé plusieurs subterfuges pour s'approvisionner en drogue, a la ferme intention d'épouser, en prison, son petit ami Robin Dunstan et fait part de son projet à Helen.
Durant la visite de son fiancé, Zandra lui dit qu'elle a l'intention de l'épouser. Robin est de plus en plus mal à l'aise. Nikki tente, sans grand succès, de mettre en garde Rachel contre l'attitude de Fenner et le fait qu'il profite d'elle.
Helen, qui commence à suspecter quelque chose entre Fenner et Shell, lui demande ce qu'il en est. Fenner, sur la défensive, lui dit qu'il essaie d'être proche de chaque détenue. Helen demandera à Nikki de lui dire si Fenner à des attitudes non-professionnelles envers les autres filles, mais Nikki refusera.
Une nouvelle détenue arrive à Larkhall, Chrystal. Très croyante et ayant pour hobby la musique, elle exaspèrera Hollamby. Zandra est malade et va apprendre qu'elle est enceinte. Elle décide de mener sa grossesse à son terme. Les deux Julies ont offert à Zandra de fabriquer sa robe de mariée. Alors que celle-ci est prête et que la future mariée l'essaie, Monica voit un article dans le journal qui parle de Robin et de son prochain mariage avec une belle inconnue. Helen est mise au courant et a le triste devoir d'annoncer la mauvaise nouvelle à Zandra.
CAPTURES DE L'EPISODE

Helen profite de ses 3 jours de week-end en compagnie de Sean qu'elle remercie d'être là pour l'aider à faire face aux difficultés qu'elle rencontre dans son travail (Profites en bien Sean...)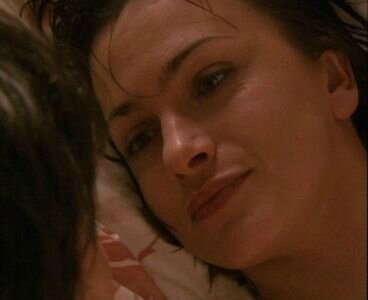 Helen veut discuter avec Zandra :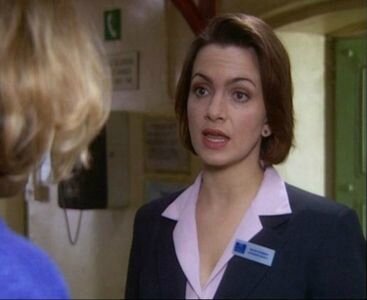 A la cantine, Helen arrive au moment où Nikki se retourne pour aller s'asseoir et lui rentre dedans. Nikki commence à hurler avant de se rendre compte que c'est la directrice qui est en face d'elle. Elle s'excuse mais Helen dit que c'est de sa faute. Elle commence à s'intéresser aux lectures de Nikki mais celle-ci n'a visiblement pas envie de recevoir de l'intérêt de la part de la directrice et lui répond assez froidement qu'elle aimerait bien aller manger.
Fenner intervient pour dire à Nikki de montrer plus de respect envers Helen, qui lui répond qu'elle peut très bien se débrouiller toute seule.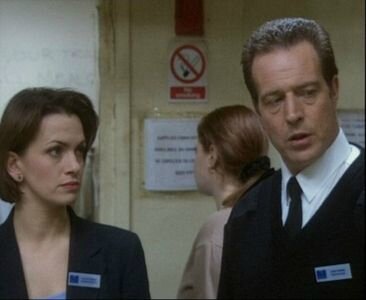 Helen : Jim, I don't need a bodyguard. I can handle prisoners myself, thank you.
Helen assiste à une scène des plus complices entre Fenner et Shell :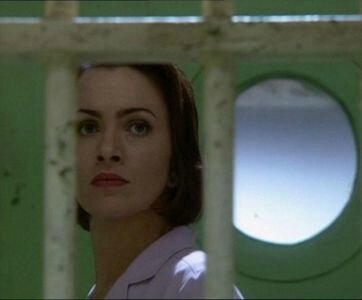 Monica apprend à Helen qu'elle a viré son ancien avocat pour en prendre un nouveau. Elle a de l'espoir pour son appel et dit que ça l'a beaucoup aidé de parler à d'autres femmes en se retournant pour regarder Nikki.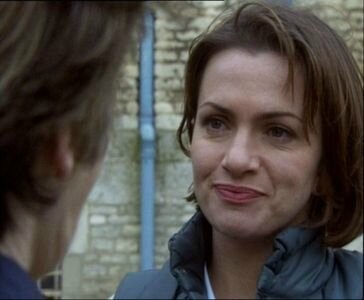 Dans son bureau, Helen s'entretient avec Fenner à propos de Crystal. Elle lui apprend qu'elle est en prison pour vol à l'étalage. Elle lui parle ensuite de sa relation avec Shell qu'elle trouve un peu trop familière.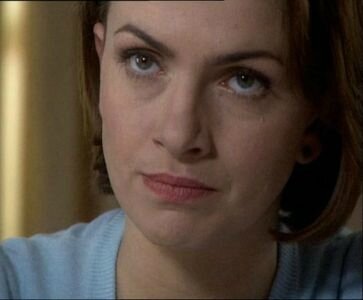 Fenner : I'd like to think I get along with most of the girls in here.
Helen : Women Jim, it's not a Swiss finishing school.

Il en profite alors pour lui faire remarquer qu'il a 14 ans d'expérience et que c'est la meilleure façon de travailler qu'il a trouvé.
Fenner : ………you are the boss.
Helen : That's right. I am. I know you don't like it but it's a fact of life.

Nikki lit tranquillement Silas Marner dans sa cellule lorsqu'Helen arrive. Elle est heureuse de voir que la bibliothèque sert à quelque chose. Elle dit à Nikki que Fenner la trouve difficile et elle lui répond qu'elle ne fait pas partie de son fan-club. Helen essaie d'en savoir plus mais Nikki ne veut pas jouer les balances.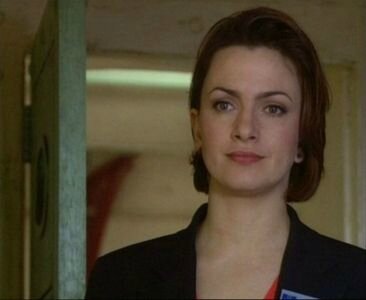 Helen: More George Eliot? It's good to see the women using the library.
Nikki: People in here aren't stupid, you know. They're a lot brighter than your screws, anyway.
Helen: My officers are trained professionals.
Nikki: Well, if Fenner's anything to go by, you'd be better off training chimpanzees.
Helen: [smiling slightly] He reckons you're a tough nut. Difficult for difficult's sake, he says.
Nikki: Yeah. Well, I'm not in his fan club, am I.
Helen: What's that supposed to mean?
Nikki: You work it out for yourself.
Helen: If Mr. Fenner's conduct is less than professional, you'd better tell me, Nikki.
Nikki: Look, I'm nobody's narc. Especially not yours.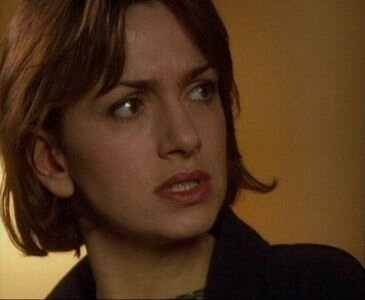 De retour chez elle, Helen aide Sean pour son travail. Elle lui suggère alors de venir donner un cours à la prison pour les détenues qui s'occupent du jardinage. Elle en vient alors à parler de Nikki qu'elle aimerait bien avoir comme alliée. Sean lui fait alors remarquer que Nikki devient une obsession.
Helen: There's this woman on the wing. She'd be a great ally amongst the inmates if I could get her on my side. Trouble is, I've tried everything. She's not interested. But she's into gardening.
Sean: Let me guess: Nikki Wade. I know the prisoners are important to you, Helen, but that one's becoming an obsession. Anyway, didn't you say she was a lesbian?
Helen: [shrugging] Yeah. She is.
Sean: Well, maybe that's your problem. You're the right species, just the wrong variety. You like your gardeners to wear Y-fronts, don't you?
Helen ne répond pas mais sourit et accepte un baiser sur la joue.
Dans son bureau, Helen reçoit Crystal pour son entretien d'arrivée :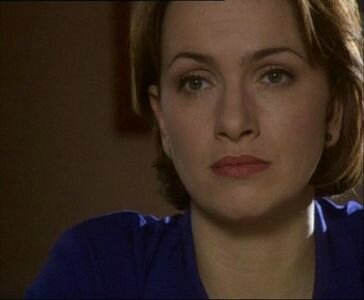 (Sources Captures et Dialogues : Afterellen.com - Gwens'world)
VIDEO
ANALYSE DE L'EPISODE
Libre analyse de l'épisode de JENNIFER T
Helen's journey
This episode lays the groundwork for Helen's journey throughout the upcoming three seasons. The primary symbolism surrounding Helen in this episode is the ways in which she is a prisoner in her personal and professional life. Intertwined with this is subtle yet repeated imagery of an alternative sexuality for Helen, a lesbian sexuality.
On a number of levels, Helen inhabits her own prison. On a professional level, she continually faces off against Fenner in her efforts to improve the situation for prisoners at Larkhall. But on a more complex level, we are seeing another form of professional imprisonment: Helen has ambitions to run Larkhall one day. While this is revealed through some teasing banter with Sean, Helen's ambition is deadly serious. It's what inspires her to constantly battle against men to wrench their power away. But perversely, her ambition just provides another avenue for Fenner's (and Stubberfield's) power to trap her by forcing her to fight it, with no real hope of ever truly winning.
Helen's personal life offers no more freedom than her professional life, nor any escape from it. In her conversations with Sean, though the scenes are played flirtatiously, the literal meaning of their words are bizarrely negative and even semi-hostile. Sean tells Helen he's going to keep her prisoner in bed (being in bed with your boyfriend only feels like prison if you're not in love with him!), and a bit later in the same scene he reassures her that there will be no Jim Fenner this weekend, only him, thus associating himself (in relation to Helen) with the bullying, misogynistic, manipulative Fenner.
The Fenner joke isn't the only occasion when work intrudes into Helen's home life, and vice versa. Late for work yet again, Helen is looking for her cell phone, and Sean is refusing to take her search very seriously. Her teasing (yet hostile?) response to him is "no one likes a smart arse"—or is it just Helen who doesn't like Sean? Sean is being a smart arse because he doesn't recognize that, unlike him, Helen is essentially confined by time. She has to arrive at work on time, which seems to present a daily challenge for her. This struggle is another image of Helen in her own prison, and her repeated lateness serves as an attempt to free herself from the prison of Larkhall's schedule, to shirk its rules.
This episode also begins hinting at another potential avenue to freedom for Helen, freedom from the confines of heterosexuality. The most striking hint (once you know what you're looking for) takes place in Helen's living room, while Helen is helping Sean pot plants:
S: You don't mind do you, Hel?
H: Of course not. I always wanted a garden. Just hadn't planned on having it in the living room, that's all.
S: It won't happen again, I promise. Only I need these potted by tomorrow, and——
H: Don't worry about it. It's quite relaxing, actually. I can see why a lot of the women work in the prison garden.
S: Have you checked the potting shed for tunnels?
H: You should come and give a lecture sometime.
S: What, shut up with all those sex-starved women?
H: They're not all that sex-starved.
S: Go on, shatter my dreams.
H: Maybe that's the way in.
S: Come again?
H: There's this woman on the wing. She'd be a great ally amongst the inmates if I could get her on my side. The trouble is I've tried everything. She's not interested. But she's into gardening.
S: Let me guess. Nikki Wade? I know the prisoners are important to you, Helen but that one's becoming an obsession. Anyway, didn't you say she was a lesbian?
H: Yeah, she is.
S: Well, maybe that's your problem. You're the right species, just the wrong variety. You like your gardeners to wear Y-fronts, don't you, hmm?
Helen is unaware of the double-entendre inherent in her line "that's the way in"-is she speaking of sex or gardening as a means of connecting with Nikki? Given that she needs her boyfriend to tell her how obsessed she's become with Nikki, at this point, she probably doesn't even know. Nikki's lesbian sexuality seems besides the point, not one of the central reasons for their connection.
But the prospect of relating to other women romantically has already unconsciously taken hold for Helen. She invests significant energy in all her interactions with Nikki. Nikki picks fights and generates hostility and Helen repeatedly defuses it, acts conciliatory. Her language with Nikki is far more gentle and kind than her exchanges with Sean. More subtly, there's a significant difference in emotional substance when comparing Helen and Nikki with Helen and Sean. Nikki's hostility toward Helen is explicit; it's in her tone and her words. This contrasts Helen's interactions with Sean, where all the emotion is veiled, hidden, twisted and trapped between hostile words and affectionate tone.
Visual imagery in this episode echoes the potential for Helen to experience emotional intimacy with another woman. When Helen calls Zandra into her office to tell her that Robin is marrying another woman, Zandra is still in her wedding dress, and Helen is in a dark suit. They are seated next to each other, half facing each other. This staging is striking, because the director could have staged the scene with Helen seated behind the desk, with Zandra opposite. The subtle effect is of a bride and groom, with Helen in the role of the groom.
Lest we think that Helen will embark on a path of professional and sexual liberation unimpeded, this episode also offers a strong dose of homophobia and draconian perspectives on punishment. Both Shell and Fenner harass Nikki by playing on lesbian predator stereotypes. Fenner tells Rachel that Nikki is saying bad things about him because Nikki wants to sleep with Rachel, which Rachel is naive enough to believe. Shell is more overt, harassing Nikki and Monica, suggesting the two of them are romantically involved. Meanwhile, Crystal provides a voice for the conservative viewpoint about crime and punishment: if you do something bad, you should be punished for it, as a way of absolving yourself of the crime. Crystal has a problem with any kindness or joy or positive things offered to the prisoners—she thinks they should just suffer their punishment.
Homophobia and draconian viewpoints on punishment are the obstacles Helen must surmount. They are obstinate and confining; this will be a long journey for Helen, one that has just begun. She has many people to convince and win over, starting (and ending) with herself.

(Source de l'analyse : www.badgirlsannex.com )
Lire la suite : BADGIRLS Ep1-04